Men's Basketball Preview: Destination: New Orleans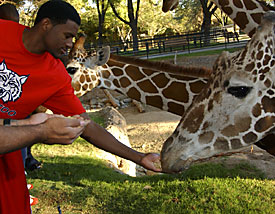 SAUL LOEB/Arizona Daily Wildcat

Freshman guard Hassan Adams feeds a giraffe at Reid Park Zoo last Friday. The Wildcats begin their march to New Orleans Saturday against Western Kentucky.

By Maxx Wolfson
Arizona Daily Wildcat
Thursday November 21, 2002


Goals.

For the Arizona men's basketball team, there are many this season.

The ultimate: to go to New Orleans and bring back a national championship come April.

But first things first ÷ that is over five months away, and this team has a couple roadblocks before it can go partying down Canal Street.

"A year ago at this point ,we only had two players who had even played the previous season," said head coach Lute Olson, about his team that entered last season unranked and finished 24-10. "We just didn't know how the freshmen would react."

However, this season in the desert, Olson is aware of the talent he has.

"This year, we have eight guys who have participated a year ago," he continued.

That experience will pay dividends, as UA has a non-conference schedule featuring the likes of No.2 Kansas, No. 4 Texas and No. 22 Western Kentucky, among others. The Wildcats have a long way to go before Pacific 10 Conference play, where it doesn't get any easier.

"Absolutely, Arizona should be ranked No. 1," said UCLA coach Steve Lavin. "No question about it. Personnel-wise, I can't remember a deeper team since that ('91-'92) UCLA season, a team with great firepower, where you have lineups where the second five or six (players) might be as strong or stronger than the first team. Arizona is that kind of team this season."

The 2002-2003 Wildcats have the tools to bring Olson his second National Championship.

"This is the deepest team we've ever had," Olson said. "We can go 10 deep with little to no drop-off, and maybe more than that. Scoring a lot of points won't be a problem."

But with expectations comes pressure to succeed, not to mention the fact that every team in the nation will be gunning to knock off the consensus No. 1 team in the nation.

"We know that teams are coming at us, and we feel that we are the best team in the country," said senior forward and preseason All-America candidate Luke Walton. "We need to come out prepared."

The big three

It all starts with leadership, and that comes with experience. And this team is stacked.

Enter seniors Jason Gardner, Luke Walton and Rick Anderson ÷ UA is one of the only teams in the nation to return three senior starters.

"It's a rare thing to have three seniors these days in college basketball," said Gardner, who along with Walton is a preseason All-American.

The senior leadership starts with the point guard, and the 5-foot-10 slick shooter from Indianapolis is one of the best in the nation.

"He's the perfect point guard for our team," assistant coach Rodney Tention said. "There is no other guy that we would want to run our team."

But as good as Gardner is, it was Walton that led the team with 6.3 assists per game a season ago.

"He is the first non-guard to lead the Pac-10 in assists, but he needs to make the good passes and not try to make the great passes," Olson said.

Anderson came back last season after redshirting and shined in his first year as a starter. He averaged 12.8 points and 7.2 rebounds and led the Wildcats in both offensive and total rebounds last year. But Anderson stands out when he helps the younger players around him.

"I want to be a good team leader," he said. "I want to give everyone a positive outlook. People will be frustrated, and it's my role to lift them up. I really want to be able to help the younger guys."

No longer freshmen

The Wildcats return 98.4 percent of the minutes played, 98.4 percent of the rebounds and 99.0 percent of the points scored.

Many of those minutes came from this year's sophomore class that saw all five players contribute in some way. The group combined to average 20 minutes per game, and that experience alone will help.

"I have always said the biggest improvement in a player's career comes from the end of his freshman season to the beginning of his sophomore year," said Olson. "Our sophomores now know what it's about to play at this level, as opposed to last year, when they didn't have a clue. But we know what they can do now."

The big man in the middle of this group is center Channing Frye, who might have been one of the most surprising players for Olson last year. He became a consistent player under the basket on both ends of the floor and his numbers reflected that.

Frye finished the season as the league leader in field goal percentage, making over 59 percent of his shots.

"Last year really helped his confidence, when he was named to the All-Pac-10 Freshman team," Olson said. "I'm sure that the Australia experience really helped him. I believe he was our leading scorer and rebounder on that trip."

The group is anchored on the perimeter around sophomore shooting guard Salim Stoudamire, who was named the Pac-10 Freshman of the Year.

The 6-foot-1 southpaw averaged 12.8 points, but might have been even more impressive on the defensive side of the basketball, where he was named the Wildcat defensive MVP.

Stoudamire, the cousin of NBA point guard and former Wildcat Damon Stoudamire, has been hampered by a high ankle sprain this season, but the Arizona training staff doesn't feel the injury will affect him all season.

The new faces

With Stoudamire hurt for the first two exhibition games of the season, Olson called on two true freshmen to help shoulder the scoring load.

Freshmen Hassan Adams and Andre Iguodala come to Arizona as two of the best defensive players ever to come to Arizona out of high school.

"When you look at the freshmen coming in, usually the thing that happens is they're not as good defensively as you'd like, and that doesn't mean these guys don't have a lot to learn. But they are very good on the defensive end, as well as offensively," said Olson about Adams and Iguodala.

"As a matter of fact, I think right now ,they're more advanced defensively than they are offensively."

But the offense hasn't been too shabby, either, as Adams scored a team-high 27 points in the opening exhibition game against EA Sports All-Stars.

Freshman Chris Rodgers will add depth at both guard positions. The Oregon native averaged a state-best 26.6 points in high school.

"He's adjusting now to the role of a point guard, where you have to involve everybody," Olson said. "You still have to be able to hit the open shots, but he has four good players on the court with him."

The fourth freshman, Chris Dunn, will redshirt this season ÷ not because of a lack of talent, but rather because of an overload at the forward position.

40 minutes of hell

It might not resemble the "40 Minutes of Hell" defense that former Arkansas head coach Nolan Richardson ran, but Olson is planning on using a full-court press for the entire game, something he has never done before.

"It's to pick the pace of the game up · to get more possessions," Olson said. "You are obviously looking for opportunities. We've always been a team that has relied on our defense to initiate a lot of our offense. We feel it should be even more so with this."

Olson said that with the addition of Adams and Iguodala and the depth that the team already has at the guard position with Bynum, Gardner and Stoudamire, that the fast-paced run-and-gun offense will benefit his team. Arizona tried to press during the 1993-1994 season, but didn't use it as its main source of defense.

"It will be different, but I like the fast-paced style of basketball that it will bring," Walton said.

That fast-paced style of basketball is something that Olson feels will be the difference in accomplishing the team's ultimate goal ÷ a national championship.