World-class athletes play as one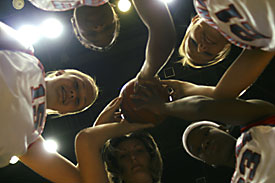 DAVID HARDEN/Arizona Daily Wildcat

Anna Chappell (Canada), Phakisha Peterson (Japan), Katrina Lindner (Australia), Natalie Jones (Belize) and Svjetlana Papcevic (Bosnia) are all players on the women's basketball team born outside the United States. Three of the sqad's 15 players still call a foreign country home.

By Jeff Lund
Arizona Daily Wildcat
Thursday November 21, 2002


On many college basketball teams, a Canadian player might be considered foreign, but this is hardly the case for this year's women's basketball squad.

In total, five of the team's 15 players ÷÷ representing four of the seven continents ÷÷ were born outside the United States, with three still calling a foreign country home.

Though this might seem like a problem in terms of communication and chemistry, head coach Joan Bonvicini said the team has responded beautifully.

"(The players) have been great with Katrina and Svjetlana and Anna; they provide a lot of diversity," Bonvicini said. "The players really like them a lot because their background is different and they look at things a different way and appreciate things more."

"I feel really comfortable," said Canadian freshman Anna Chappell. "I don't feel different at all."

It might be a little easier for her, since Canada at least borders the United States.

For two other players, home is on a different continent.

Red shirt freshman Katrina Lindner (Australia) and junior transfer Svjetlana Papcevic (Bosnia) are both a long way from home, but say it doesn't bother them much.

"I love it," Papcevic, a transfer from Pratt Community College in Kansas, said. "It is a lot different than playing in Kansas. This is the Pac-10 and the teams are stronger and faster. It will be very exciting."

Papcevic said she decided on coming to Arizona because of the opportunities presented by the program and school.

"I came here to visit, and I liked what I saw," she said. "This was the best option."

As expected, these two get the most of the attention from their teammates. Papcevic said often times she has to tutor her teammates in her native tongue.

"I speak English, Bosnian and a little bit of Russian," she said. "They want me to teach them some words in my language."

Seniors Julie Brase and Krista Warren admitted to being intrigued by the opportunity to increase their vocabulary.

"Yeah, its true," Warren said, laughing. "Julie and I like to broaden our horizons and our verbiage."

"We're just getting to know her better," Brase said. "At first, we didn't know she knew so many languages, so we were like, ╬Oh, tell us this word.' We have a good time with it."

The team also likes to have a good time with what Lindner has to offer ÷÷ the Australian accent, and stories from the land down under.

"I get teased, but I don't mind. It's fun," Lindner said.

As was the case with Papcevic, Arizona was an ideal location for college basketball and an education.

"There are a lot of things," she said. "Mainly the fans, and all the opportunities."

The other two foreign-born players, freshmen Phakisha Peterson and Natalie Jones, said they don't really consider themselves foreign anymore, because they have lived in the United States for the majority of their lives.

"I get more questions about living in Alaska," the Belize-born Jones said.

Though a bit of teasing goes on, there is no doubt as to where the team's heart is.

"They love me, and I love them too," Papcevic said. "I am enjoying this very much."

The combination of the different personalities has successfully formed a strong bond between all the players. The only question that now remains is how successful the team will be on the scoreboard.

"The diversity and their talent makes us broader and better," Warren said. "There are a lot of different styles out there and it makes us better."