Women's Basketball Preview: Youth hoping to lead team to NCAAs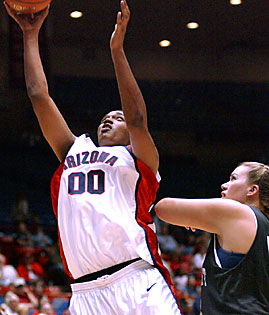 SAUL LOEB/Arizona Daily Wildcat

Redshirt freshman Shawntinice Polk ÷ "Polkey" to her teammates ÷ has wasted no time taking over and dominating at the center spot for the Wildcats. Polk's ability could bring herself and Arizona into the national spotlight.

By Charles Renning
Arizona Daily Wildcat
Thursday November 21, 2002


To be the best, you have to play the best.

The Arizona women's basketball team is certainly going to be playing some of the best this season. The question is: How good is this team?

The nation doesn't seem to think the team is worth a Top 25 ranking after last season's 14-14 finish. In fact, the Wildcats didn't receive a single pollster's vote.

However, Arizona will get a chance to earn the nation's respect early, as the team kicks off the 2002-2003 season tomorrow at McKale Center against the No. 3 Louisiana State Tigers.

Three days later, the Wildcats take on Pepperdine on the road, then come home to play No. 9 Georgia.

Not an easy start to the season by any means. Add in the annual Fiesta Bowl Classic at home, a trip to Ohio State and a home game against New Mexico, and you have the team's first two months of the season.

History does bode well for the Wildcats, so when the dust settles and conference play starts, UA could be in a good position with a lot of confidence.

In Joan Bonvicini's 11 years as head coach at Arizona, the Wildcats have jumped out to at least a 5-1 start in six, including two 12-1 starts, in both 1995-1996 and 1999-2000.

Last season, Arizona started 3-0, including a buzzer-beating layup to beat defending champion and 15th-ranked Notre Dame 72-70 in McKale Center.

If the Wildcats are going to have another quick start, much of the load will fall on the freshman class and the newcomers who litter the lineup.

"We are obviously going to be tested early, but I think it's really going to help us," Bonvicini said. "I have a lot of confidence in this team. We are very athletic, we have good shooters and we have good depth."

A lot of that athleticism and depth comes in the form of guards. Arizona will look to rotate seven guards in its pressure-packed, full-court scheme. Leading the way is sophomore Dee-Dee Wheeler.

Wheeler, last year's Pac-10 Freshman of the Year, averaged 12.3 points and will be accompanied by juniors Aimee Grzyb and Candice Allen. The depth portion of the backcourt will come from the freshmen. Though freshman Natalie Jones might be known as Alaska's top female player last year, she is itching to make her name known outside the 49th state.

Last season, Jones was deemed a Parade High School All-American, and was a heavily touted recruit.

Jones, along with Phakisha Peterson and redshirt Katrina Lindner, round out a highly athletic and hard-working freshman bunch that should give Bonvicini plenty of reasons to smile ÷ and opposing coaches nightmares.

The guard position is not the only position where Arizona received a depth boost. The frontcourt will also have an impressive rotation with senior Krista Warren sharing time with freshman CoCoa Sanford and redshirt Shawntinice Polk.

Polk, who is called Polkey on the court, has already made a name for herself with her dominating presence. Her talent and ability have coaches licking their lips, and are soon to have fans taking notice of the women's team in the Old Pueblo.

Warren and Brase return as the only two seniors on the Wildcat squad and will have a big impact on Arizona's season. With all the potential, the question is whether that learning curve can accelerate so the results will be immediate.

"The biggest question mark is that we have to rely on some young players right away," said Bonvicini.

So far, the newcomers have not disappointed. Led by Polk, the Wildcats won both of their exhibition games by an average of 25 points.

"Our team played pretty well," Bonvicini said. "I still think that there are things we need to do better ÷ a little better defense, and execute on offense. It's the little things that make the difference, and that's how you win."

Bonvicini said it's the team's goal to be competitive and make a run at the Pac-10 title.

"We feel like we have a lot to prove this season," Bonvicini said. "We really want to do well in the Pac-10. We want to be back into the NCAA Tournament."