Jason chasin' a championship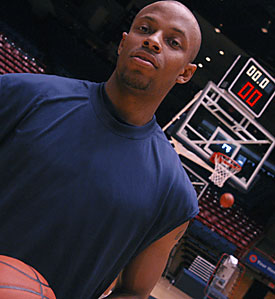 DEREKH FROUDE/Arizona Daily Wildcat

Wildcat senior Jason Gardner has been a constant winner since he arrived at Arizona in 1999.

By Maxx Wolfson
Arizona Daily Wildcat
Thursday November 21, 2002


It started out as just another day for Jason Gardner. The 16-year-old sophomore woke up, grabbed his backpack and drove to North Central High School in Indianapolis early one March for his routine morning shoot around.

But that day, his routine was interrupted. Gardner wasn't allowed in his own gym.

The security guards outside the gym were instructed to not allow anyone in. A college basketball team from Tucson, Arizona, was practicing there today.

Gardner went home to complain to his mother, Stephanie.

"He came back home and said ╬Arizona is practicing in my gym and they wouldn't let me in my gym,'" she says. "He was so upset."

College was the last thing on Gardner's mind. Those two years left in high school seemed then like they would take forever.

And even when the thought of college came up, it definitely wasn't Arizona he was thinking about. Little did he know the college from Arizona was going to win the National Championship that year.

"I thought I wasn't going to Arizona and I really didn't know too many people in the gym and it really wasn't big to me," Gardner says.

Gardner may not have known about Arizona, but Arizona knew about him.

"Why do you think we practiced in his gym?" says former player and current assistant coach Josh Pastner.

"This season, I'm all about winning championships and it all ends with the National Championship."
- Jason Gardner
Point Guard

A big move
Why would a player from Indianapolis ¸ Mr. Basketball in the state his senior year, no less ¸ go all the way to Tucson to play college basketball when he could easily have gone to Indiana, Butler or Purdue?
"The main reason was the way coach (Lute) Olson works with players and develops players for the next level," Gardner said. " I also wanted to get away."
So Gardner packed up and left home in 1999, and he wasn't alone. Stephanie, a former Hoosier, joined him.
The loyal mother just had no connections in Tucson, and no guarantee
of a job. But it was a sacrifice she was willing to make.
"He comes from a big family and it was a shock for me to see that he was going so far," said Stephanie about her youngest of three children. "Luckily, I was in the position that I could go."
In his first season as a Wildcat, Gardner won the starting point guard position and became the first UA
freshman to be named to the All-Pac-10 first team after averaging 12.8 points
and 4.8 assists.
And Stephanie was there in row 10 the whole time, screaming her head off at every game.
"He likes it when I'm there, because then he doesn't have to worry about me," she said. "I get to each game an
hour early and have been doing that since high school, so he can relax that I will be there."
Gardner's numbers looked about the same his sophomore year, but this time he led the Wildcats to the final game of the NCAA Tournament.
"He became our leader at the end of his sophomore year," associate head coach Jim Rosborough said.
After those fateful five minutes against Duke had come to a close, Gardner was faced with another tough decision. The entire starting lineup from that 2000 team ¸ Loren Woods, Richard Jefferson, Michael Wright and Gilbert Arenas ¸was leaving for the NBA. Would he join them?
At first, it seemed so. Gardner declared for the draft and went through all the NBA pre-draft camps, but didn't sign with an agent, allowing him to return to school if he wanted. After seeing how long the odds were that he would be a first-round pick, he pulled his name out of consideration.
"After I made my decision to come back, I never looked back," Gardner says.
Gardner's role as floor leader his junior year was nothing new, but he would have to do it without his best friend on the team in Arenas, and with a cast of unknowns around him.
Gardner, along with senior Luke Walton and a group of five talented freshmen, took the Pac-10 Tournament crown before eventually losing to Oklahoma in the Sweet 16.
The 5-foot-10 guard was named to many All-American teams, as he scored more points than any other Pac-10 player that year.
The last time around
When Gardner first stepped out on the basketball court when he was 7 years old, he hated every minute of it. But he knew he couldn't give up, because his older brother James wouldn't let him.
"Jason always looked up to his brother," said Stephanie, whose two boys are four years apart. "He would take Jason and play with the older guys and Jason would come home and say, ╬They won't let me win.'"
While winning has come a lot easier at Arizona, he still doesn't have the win he cares about most.
"This season, I'm all about winning championships and it all ends with the National Championship," he says.
That's the attitude that Olson expects from his leader.
Because of that, now Gardner is influencing players on his team like his older brother James, who graduated from Marion College in Indianapolis, did to him.
"He is a great leader and he is like the older brother on the team," sophomore center Channing Frye said.
However, Gardner realizes that his days in college are numbered.
He is set to graduate in May with a degree in Education. He will be the third Gardner child to accomplish that ¸ his sister Treci graduated from Ball State.
However, he still has the same goal that he has had since he was in junior high school ¸ to play in the NBA.
"I see Jason as an NBA player," Rosborough said. "Some teams are concerned with his height, but there are so many of those teams with stinking, losing, awful records and guys on their teams that are not winners. What they need is a guy that can come in and help them win, and that's Jason."
But if Gardner doesn't end up in the NBA, it won't be the end of the world, either. He said he wouldn't mind going back to his high school in Indianapolis and coaching.
And maybe then, he'll never have to worry about practicing in "his gym."