Despite ranking, questions still exist about the future of men's basketball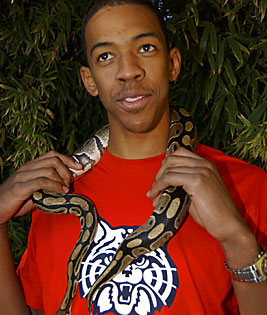 SAUL LOEB/Arizona Daily Wildcat

Sophomore Channing Frye takes time to make a new friend at the Reid Park Zoo. If he continues the improvement he showed last season, the 6-foot-10 center could develop into one of the top big men in the conference, as well as the country.

By Maxx Wolfson
Arizona Daily Wildcat
Thursday November 21, 2002


Only seven teams have ever won the national championship undefeated, the latest being the 1976 Indiana Hoosiers that went 32-0. So, odds are that this season, the nation's No. 1 team will have some bumps in the road along the way to its ultimate goal. As the men's basketball team is set to begin its 2002 season on Saturday against Western Kentucky, there are still some questions that can interfere with a successful year.

Q. Can UA replace All-American point guard Jason Gardner if he gets hurt?

A. One of the team's biggest weaknesses might be at the backup point guard position, where sophomore Will Bynum has struggled when matched up against Gardner in scrimmages. Head coach Lute Olson has considered using Salim Stoudamire as the backup point guard when Gardner rests for a short time during games, but what will happen if he misses an extended period of time? Arizona saw what happened last season when Luke Walton missed two games with an achillies injury. But losing Gardner for any time this season could be devastating.

Q. Can UA rely on sophomores to make the big shot?

A. Both sophomores Channing Frye and Stoudamire showed last year that they could knock down a big shot when it counted, but as the Wildcats enter big games in the tournament, both will be asked to answer again. Olson said that he feels the sophomores are actually more like juniors, and that experience can pay dividends on the road in games late in the season against UCLA and Oregon and on into the NCAA tournament.

Q. Will the full-court press work?

A. Olson has said that his team has suffered in its half-court defense because it has spent so much time in practice working on the press. If the full-court press doesn't work against some teams like Texas and Oregon ÷ two teams that have All-American caliber point guards in T.J. Ford and Luke Ridnour ÷ then Arizona will have to revert back to a half-court defense without practicing it much. However, with the addition of freshman Hassan Adams and Andre Iguodala, there is no reason that any team should be able to outrun the Wildcats.

Q. Will Rick Anderson be willing to come off the bench?

A. Since the summer started, many have started counting Anderson out of the starting lineup. So far, the senior has proven doubters wrong and has had a great preseason. However, if Anderson struggles at times this season, odds are that Olson will insert Iguodala into the starting lineup. Remember, Anderson redshirted two years ago to become the go-to guy this year, and if that doesn't happen, he might become upset playing only 15 minutes a game.

Q. Is it too early to buy tickets to New Orleans?

A. Remember that nothing is a safe bet and being ranked No. 1 doesn't guarantee anything. However, plane tickets are going for around $250 right now and will definitely go up as the tournament gets closer. Plus, what's the worst that could happen? If the team doesn't make it, a weekend partying on Bourbon Street wouldn't be so bad, anyway.