Home Sweet Home at McKale Center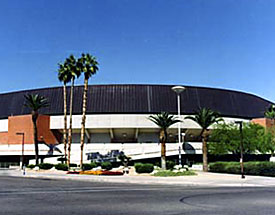 Photo courtesy UA Sports Information Office

The 14,545-seat McKale Center has been the home for Arizona athletics since 1973.

By Brett Fera
Arizona Daily Wildcat
Thursday November 21, 2002


It bears the name of the father of Arizona athletics, J.F. "Pop" McKale, yet is has been standing in its own simplicity, virtually unchanged to the naked eye, for nearly 30 years.

It houses college basketball's most successful program over the past decade and a half, yet it carries no luxury suites like those in Maryland's brand new Comcast Center or the Breslin Center on the campus of Michigan State.

But when McKale Center is filled to capacity, the more than 14,000 obnoxious, thunderous, red-clad UA fanatics who stomp up its ramps game after game will never fail to be heard. Through their consistent attendance and outlandish display of school-spirit, Wildcat faithful continue to show why the home-base of Arizona athletics has been, since its inception, the epitome of everything that college sports are supposed to stand for, and will continue to stand for far beyond the 30th anniversary of its 1973 inception.

"You cannot compare McKale Center and the University of Arizona to anywhere else in the nation," assistant coach and former player Josh Pastner said. "We sit in a recruit's living room and can tell him that for the four or five years that they will be here, they will not once be playing in front of an empty seat. It's a really good selling point."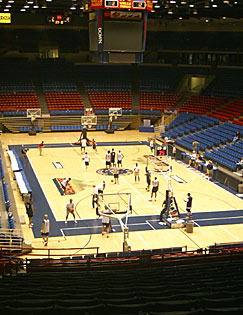 Photo courtesy UA Sports Information Office
Though it has undergone minor renovations over the last 30 years, McKale Center hasn't lost its cozy feel.
The Arizona men's basketball team has led the Pacific 10 Conference in attendance since the 1984-85 season, selling out every game over the last 16 years.
Through its tenure as the home of the Wildcats, the seating in McKale Center has seen the most drastic changes over the years, opening at a capacity of 13,658 with bench-style seating, and currently holding in upwards of 14,545 spectators, with individual chair-back seats, including retractable padded seating for the lower level.
Crowds of over 11,000 were estimated for even the earliest games, a large step up from the few thousand fans that could fit into Bear Down Gym ¸ the old home of Arizona basketball ¸ at the center of the UA campus.
The interior carries a simple backdrop with just a few electronic message boards along the bowl of the arena, with its newly installed four-sided video screen hanging from the center of the roof.
But despite not necessarily comparing on the surface with its counterparts across the college landscape, there is no question as to why McKale Center continues to be among the most impressive venues in college basketball ¸ its tenants are simply winners.
McKale Center continues to be the hub of the UA athletics program, with a women's basketball team on the verge of becoming a Pac-10 power, and a men's team that has won more games than any other school since 1987, including four trips to the Final Four during that span.
---
McKale Center's top 10 moments of all time
A listing of the 10 most memorable Wildcat sporting moments ever to occur in the house that ╬Pop' built
· 1. 1/7/01 ¸ Court re-named "Lute and Bobbi Olson Court," following the passing of Bobbi to cancer just six days earlier, on New Years Day.
· 2. 1/20/84 ¸ Lute Olson's first Pac-10 victory, against Arizona State, was overshadowed by the heartwarming ovation given to Wildcat freshman Steve Kerr. Kerr's father, Malcolm, was assassinated just days earlier in Beirut.
· 3. 2/18/89 ¸ Sean Elliott scores 35 points and tallies 11 assists and seven rebounds in a win over UCLA, topping Bruin great Lew Alcindor for the all-time Pac-10 record.
· 4. 3/13/88÷3/15/88 ¸ UA rides All-Americans Sean Elliott and Steve Kerr and dominates the 1988 Pac-10 tournament as host, en route to its first Final Four and a school record 35-3 mark on the season.
· 5. 2/1/73 ¸ In the first game in McKale Center, Arizona defeats Wyoming 87-69 in front of over 11,000 fans, just days after closing Bear Down Gym with a crowd of under 3,000.
· 6. 11/20/97 ¸ First game following National championship, Wildcats trounce Morgan State, 115-53, in front of the largest McKale Center crowd of the Olson Era (14,672).
· 7. 3/15/98 ¸ Women's basketball defeated No. 17 Virginia, 94-77, reaching its first- ever Sweet 16. It lost its next game to No. 3 Connecticut and finished the season 23-7, ranked No. 9 in the final polls.
· 8. 1/15/02 ¸ Arizona stunned UCLA, outscoring the Bruins 43-13 over the final 13:53, earning a 96-86 victory. UA went on a 27-2 run midway through the second half, as the McKale Center crowd rushed the court following the win.
· 9. 2/14/87÷1/9/92 ¸ Arizona wins 71 consecutive home games, spanning parts of six seasons, the fifth-longest streak of its kind in NCAA history.
· 10. 9/14/02 ¸ The Eddie Lynch Athletic Pavilion opens a new era for Wildcat athletics, as the $14 million addition to the arena houses a state-of-the-art training facility and conditioning center. McKale Center itself cost just over $8 million when first erected in 1973.
· Honorable Mention: Sean Elliot and Steve Kerr jersey retirements; First sellout at McKale Center under Olson, 2/3/85; Women's basketball defeats defending National Champion Notre Dame, 72-70, on a last-second shot, 11/24/01; Luke Walton's triple-double against Southern California, 2002; Loren Woods' 14 blocks (including three on one play) against Oregon, 2/3/00; Richard Jefferson jumping over cheerleader for slam dunk during Midnight Madness, 10/13/00.
---
Arizona men's basketball has an incredible home record of 374-71 (.840) since McKale Center opened its doors, including a 71-game win streak from 1987-1992, the 10th-longest in NCAA history.
In addition to the basketball program, McKale also houses the perennially ranked women's volleyball team, which reached a national semifinal of its own last season, along with the often under-appreciated Arizona Gymcats, who also competed for a national championship last year.
All in all, each of the inhabitants of McKale Center continue to be competitive year in and year out, only adding to the arena's impressive lore.
"What makes McKale Center most special are the teams that play in it," athletics director Jim Livengood said. "When you have a program like we do in basketball or volleyball, or gymnastics for that matter, it gives the fans reason to come, which is why we take so much pride in keeping our facilities up to date. Our basketball team keeps on winning, yes, because we draw the talent, but also because we have the fan support of the entire campus and Tucson community."
Other than seating, the facility has been given only minor touchups on the interior until recently, a trend that Livengood said will continue to increase in the upcoming years.
Perhaps the most recognizable change within McKale Center was the naming of the playing surface the "Lute Olson Court," in February 2000, and its subsequent re-naming almost a year later to the "Lute and Bobbi Olson Court," following the tragic passing of the first-lady of UA basketball.
Another notable change, the current video replay system in the rafters at center court was installed prior to last season. Livengood said there are plans to add more color to the arena, including painting the concrete tunnels leading into the seating areas red and blue.
"We plan to continue with extensive renovations to every facility on campus, but especially McKale," Livengood said. "Some of our high-cost additions, like the video replay screens, are not just for fan enhancement, but for revenue enhancement as well. To be able to sell ad space on the message boards, not to mention during timeouts or other stoppages of play on the actual video boards, are definitive ways for the department to gain funds."
Livengood also hopes to add a "Ring of Fame," similar to the one in Arizona Stadium, which would display the names of All-Americans, record holders and other outstanding achievers. Livengood also mentioned a plan to renovate all coaching and business offices the building holds. The coaches' offices for every NCAA team at the UA are located in McKale Center.
Currently, the project at the forefront of the renovation plan and at the helm of the athletics department's public relations office is the design, production and placement of new championship banners for the teams that play in McKale, including a new National Championship banner for men's basketball.
"There will be 10 new white banners replacing the current blue ones, and each one will have the Arizona ╬A" logo,' said Phoebe Chalk, assistant director of athletics in charge of public relations. "We want to try and bring that primary logo into the arena more. Also, for the men's Final Four appearances, for example, the banners will have the official logos from those particular events, as well. We are just trying to spice things up more inside (McKale Center)."
The changes to McKale Center are not solely on the inside, as major exterior changes have occurred in recent years, too, including the addition of the football offices on the southeastern section of the building and the McKale Sports Stop, which sits adjacent to the ticket office.
Visible externally on the north side of McKale Center is the new Eddie Lynch Athletics Pavilion, including the Jim Click Hall of Champions, which houses championship trophies, team memorabilia and individual honors bestowed upon UA athletes. This brings the arena into the 21st century with its impressive training facilities and workout rooms, along with a state-of-the-art medical treatment center.
The addition of the pavilion allows for renovation inside the adjoining McKale Center, as the areas that formerly housed the training and medical facilities are now being turned into a spacious academic center for student-athletes.
"Everything we do here is with the intention of taking care of the needs of our student-athletes," Livengood said. "We have new training facilities and soon, an outstanding new academic center, because we all need to keep in mind that the student comes before athlete."
Chalk also explained plans for an "Academic Champions" area, on the arena level of the building. Included will be a presentation of achievements to highlight academic accomplishments, like 4.0 and 3.0 students, Academic All-American or All-Conference awards and photos of graduating seniors, among other notable achievements.
Steve Kozachik, assistant director of athletics in charge of facilities and event operations, agreed that McKale Center and its new additions will help keep Arizona Athletics competitive with other college athletic programs nationwide.
"Top to bottom, we have some of the best facilities in the nation, especially McKale," Kozachik said. "I don't see why anyone would not want to come and play here."