Pressure Points: A look at the press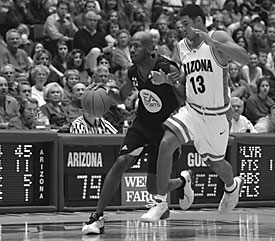 KEVIN KLAUS/Arizona Daily Wildcat

Freshman point guard Chris Rodgers tries to prevent EA Sports All-Star Tony Harvey from getting up court as the Wildcats used their full-court press. Arizona will press for 40 minutes in every game.

By Jeff Lund
Arizona Daily Wildcat
Thursday November 21, 2002


The press.

Not the print type, but the full-court variety, will be something that the men's and women's basketball teams will use extensively this season.

The press is designed to put extensive pressure on the offense ÷ either full-court or half-court ÷ resulting in turnovers.

"(It is used) to pick the pace of the game up, to get more possessions," men's head coach Lute Olson said. "You are obviously looking for opportunities. We've always been a team that has relied on our defense to initiate a lot of our offense. We feel it should be even more so with this. We hope to be able to turn those turnovers into quick baskets at the other end. I think we go deep enough to do that at every position."

"People can pick you apart. Everybody has got to be coordinated."
- Jim Rosborough
assoc. head coach

However, it can often backfire, and leave the defense scrambling and giving up easy buckets. This was evident in the men's game against EA Sports and the women's matchup with the Czech Club team. In both exhibitions, the Wildcats attempted the press, but it was often easily broken, and led to open perimeter shots for the visiting opponents.
"The problem is that you have to recover, get back and cover the outside shot," senior forward Luke Walton said. "It showed that it was the first time we had ever pressed."
The success of a press is not limited to how many turnovers are created. It is also used to take a team out of its offense and disrupt the team's rhythm. For many coaches, a quick shot on the other end can be as good as a turnover. Men's associate head coach Jim Rosborough said the effects of the press can be felt even before tipoff, as the other team must prepare for the press, and thus time that would normally be spent fine-tuning different aspects of its own game must be spent preparing to deal with the press.
"Quick shots and wearing them down and people having to prepare for it are also benefits of the press," Rosborough said. "Everyone has a press offense once they know we are coming at them full bore, they have to spend time in practice against the press."
One of the teams Rosborough remembers most as having a press that forced Arizona to make extra preparations was Cincinnati. In the Pacific 10 Conference, UCLA has been known to have a difficult press.
"With Cincinnati, you always have to spend extra time," he said. "When we play UCLA they are still noted for the 2-2-1 zone trapping press. You have to be sure you know what you are doing."
But keeping away from that dangerous opposite edge of the sword is the key, said Rosborough.
"We want to pressure full court and not give up anything easy," he said. "The risk is, people get behind you. If they have a good press offense, you will be vulnerable. The recovery is critical. People can pick you apart. Everybody has got to be coordinated."
Temptation is also another thing that can lead to the demise of a press. When players attempt to make a steal or a big play, if the effort fails, the other team's chances of scoring can rise considerably.
"There are times you will gamble, but the less risks you take, the better," Rosborough said. "There are times when they throw the long pass (and) you can make a run at it. It can't be a high gamble."
So, what would be more difficult: preparing for the press, or preparing to press? Rosborough first said preparing for the press, because of the mental aspect, but quickly changed his answer to preparing to press.
"It's fun for the guys, but they have to go full speed," Rosborough said. "If you are pressing, then you have to make an immediate response."
Only time will tell what kind of response Arizona's opponents will have.