Pastner's Notebook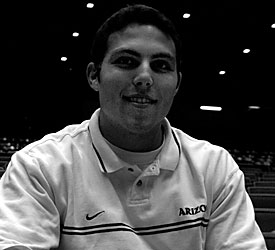 Josh Pastner
asst. head coach

By Brian Penso
Arizona Daily Wildcat
Thursday November 21, 2002


Two seasons ago, Josh Pastner, a former UA basketball player, talked to the Wildcat once a week during the season in a piece called Pastner's Notebook. Now, Pastner is a full-time assistant coach and will be back giving his insight on this year's team.

Q: What is Salim Stoudamire's status?

A: It's nothing serious. He has a high ankle sprain and he is rehabbing it right now. It's an injury that we don't want to linger on into March and April.

Q: Is Stoudamire worried about Hassan Adams taking his starting role?

A: Coach Olson's philosophy is that you earn your minutes in practice. You have to remember that Salim was the Freshman Player of the Year in the Pac-10. He is very talented and will earn his minutes in practice.

Q: What is it like coaching Luke Walton and Jason Gardner, who give you two players that distribute the ball so effectively?

A: It is an amazing situation. The point guard is the extension of the coach. Luke thinks like a point guard. They are both great leaders that have had a lot of experience. You can't teach experience.

Q: Do former Wildcats in the NBA, such as Richard Jefferson and Gilbert Arenas, stay in contact with the program?

A: They do. That is the reason that we have a great program. Players in the NBA that are former Wildcats speak so highly of coach Olson and they credit him with a lot of their success. They're all Wildcats for life.

Q: Are you worried that the Wildcats will be susceptible to upsets, being that they are ranked No. 1?

A: We have a bullseye on our backs every time we step on the court. Every team is going to play its A game against us. We can't (take) any night off. Coach Olson does a great job preparing the team. We have to go out and play every game like we are playing Oklahoma or Duke.

Q: How has Will Bynum's transition from shooting guard to point guard gone?

A: Will has had a tremendous offseason. He had had a great attitude and his defensive intensity and toughness have been great.

Q: Will this season be a disappointment if the Wildcats don't win a national championship?

A: Everyone's goal is to win a national championship. But we have other goals. We want to win the Pac-10 and win the Pac-10 tournament. We just have to keep preparing every day in order to have the work ethic to win. We have the talent, but we have to stay focused and gain the killer instinct to put teams away.