Arizona keeping its guards up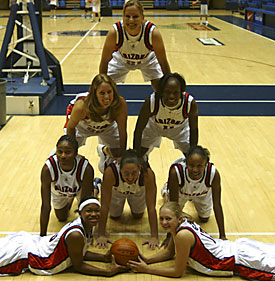 DAVID HARDEN/Arizona Daily Wildcat

(Top to bottom, left to right) Katrina Lindner, Julie Brase, Dee-Dee Wheeler, Phakisha Peterson, Jessica Duger, Candice Allen, Natalie Jones and Aimee Grzyb will all see time at the guard positions this season.

By Jeff Lund
Arizona Daily Wildcat
Thursday November 21, 2002


Wildcat women ready to run the floor for transition baskets and use a full-court press on defense because of depth at guard spots

A Parade high school All-American, the 2002 Pac-10 Freshman of the Year, a returning starter, a redshirt freshman and two players that started numerous times ÷ no, this isn't the best of a returning team, its simply the depth chart at the guard position.

To say that the Arizona women's basketball team has depth would be an understatement.

Even to call it a team with a lot of depth might still be underestimating the amount of horsepower head coach Joan Bonvicini has in her backcourt, because the aforementioned lineup doesn't even include the junior transfer and the freshmen that play forward and guard.

"We have a lot of depth at the guard spot," sophomore Dee-Dee Wheeler said.

No kidding.

Wheeler, last season's Pac-10 Freshman of the Year, said she is looking forward to the season because of the ample and able bodies at the one, two and three spots.

Along with Wheeler is junior Aimee Grzyb ÷ who has started 44 of her 60 career games in a Wildcat uniform ÷ junior Candice Allen and senior Julie Brase.

As one of the captains and leaders of the team, Brase brings experience to the guard spot, along with Grzyb and Allen, all of whom have seen considerable playing time as Wildcats.

Allen has often been a spark plug coming off the bench for the Wildcats. Last year, she sustained a concussion and missed three games, but is poised to make her presence felt as an upperclassman.

Then, there are the young guns.

Freshman Natalie Jones will not have to wait long to get her chance to make an impact.

Last year's Alaska Player of the Year, Jones is already competing for a starting spot.

Though her scoring ability has yet to show fully in the team's exhibitions, her quickness and effort have not lacked.

"She doesn't play like a freshman," Grzyb said.

Add in redshirt freshman Katrina Lindner, junior transfer Jessica Duger öö who will not be available to play until January due to transfer rules öö and freshman Phakisha Peterson, and you have the 2002-03 women's guards.

Problem is, only five players are allowed on the floor at once, and playing five guards at once isn't exactly an option.

Assistant head coach Denise Dove Ianello said the ample amount of guards will not be a problem, and, in fact, will be a huge bonus for this year's team.

"I think its really going to be at our advantage," Ianello said. "Our whole system is using full-court presses. We are a transition team. No one has to save themselves. We have so much depth and so many looks. We can go big and quick, short and quick."

Giving many looks means sending many players in and out of the game.

Grzyb said that despite the heavy substituting that is expected to go along with having such a stacked back-court, she is willing to do her part for the good of the team.

"I think it's good, because we know we can press and run the team more," Grzyb said. "If someone is doing really well, coach will keep them in."

With the increased substituting, Grzyb said although it might be a little more difficult to get in a rhythm, utilizing the depth is vital for the team's success.

"It doesn't bother me, as long as the team is working hard and we are winning," Grzyb said. "Every single player is important and contributes on and off the court." Ianello agreed.

"The thing is with us, is that there are no selfish players on the team," she said. "Everyone wants to do what they can to help the team. That's the attitude. Whatever minutes they get, they are taking."

The team will tip off its season tomorrow at 7 p.m. in McKale Center against No. 3 Louisiana State.