Wednesday, July 28, 2004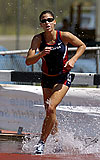 UA Sports 101 - Part 1: The Teams
The UA sporting scene is more than just basketball and football. There are 16 other varsity sports plus dozens of club teams, including the men's hockey team, which is the third-biggest draw in town and among the most popular teams in all of college hockey. Here's the outlook for 18 varsity sports and the Icecats:
Football
Don't expect a Rose Bowl from the new coaching staff this year, but there certainly is nowhere to go but up. In 2003, the football team had a 2-10 record and was in the bottom of Division I-A in nearly all stats. It's always a bad thing when every week your fans are reminded how many teams play D I-A football (117). The Wildcats return 19 of 22 starters, but is that a good thing? The schedule should be a little easier than it was last year, when they faced two national champions and 10 bowl-eligible teams, but not by much, and some pundits are calling it the nation's toughest. [Read article]




UA Sports 101 - Part 2: The Plays
Psst. Hey, new kid... over here.
So tell me the truth ...
You're a freshman, and you secretly don't want to tell your parents why you REALLY came to the UA.
I know it's not because of the school's Harvard-esque academic reputation branching across any of its 122 majors and 30 schools and colleges, but really because of a much simpler fact: Arizona has a damn good basketball team.
Oh, come on. Mom and Dad aren't watching; you can say it here. I see right through it, even if your folks can't - and I promise you're not alone. [Read article]




Stoops, there it is: Football sales up due to new coach, Zona Zoo program
New football coach Mike Stoops has yet to coach a game for the UA, but his hiring is already paying dividends.
As of last week, the UA has sold about 5,000 more season tickets than last year, said Chris Del Conte, senior associate athletics director for sports programs and operations.
Arizona hasn't even started its normal season ticket blitz, which begins at the start of August.
The UA has already essentially gained back the fans it lost under former head coach John Mackovic, who was fired five games into his third season. [Read article]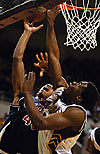 Men's basketball: the hottest ticket in town
There are a few things in life that one can be certain about: death, taxes and the popularity of men's basketball at the UA.
The Wildcats are the hottest ticket in town, explained assistant coach Josh Pastner.
"I think it is the most popular thing in the state of Arizona; every single game is on live television," Pastner said. "In Tucson, the fan support is terrific. We get tremendous support. We're very fortunate, very lucky for that." [Read article]



Why you too should hate ASU
There are two parts to the UA-ASU rivalry: the part that makes you laugh and the part that makes you wonder why the state still recognizes Arizona State University as a four-year institution.
I could easily fill the Wildcat's biggest issue ever with reasons why to hate ASU, but for your reading pleasure (and to avoid carpal tunnel), I've condensed it down.
Sure, it's funny when ASU students wear their nacho cheese-yellow shirts that say "SOLID GOLD," when "The Simpsons" rips ASU's admissions standards or when they brag they beat the UA in every sport besides basketball. [Read article]




UA Traditions: A crash course
Cardinal and navy
The UA's original colors were sage green and silver, but in 1900 student manager Quintas J. Anderson was offered inexpensive solid blue jerseys trimmed in red. The football team needed new jerseys and, short on green, took the offer. Immediately the school's colors were changed to red and blue, eventually settling on cardinal red and navy blue. While navy is the dominant color of uniforms, fans usually wear red to games. [Read article]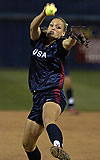 Top 10 Sports Stories
A look at the best of UA sports from the past decade
10:
Olympic softball team comes to UA
When the UA faced off against the USA Olympic softball team this March, it truly was a civil war. UA head coach Mike Candrea was on a leave of absence to lead the USA team and - after dominating all its "competition" - was in need of a challenge. The Americans brought four former Wildcats, including their ace and softball's biggest star Jennie Finch, to face off against her successor and the UA's ace Alicia Hollowell. Both were undefeated. While the UA's perfect record was marred in the game immediately before the match, the record crowd was not disappointed as Arizona gave the USA one of its toughest games, losing just 6-1. Two time junior Olympic team member and then-freshman Kristie Fox homered - the only HR given up by Finch on the 53-game tour. Despite an unadvertised Saturday airing, the game was ESPN's most watched program of the day when it was first shown. [Read article]




Wildcats to watch
Top UA Athletes of 2004
Top athlete overall:
Robert Cheseret, cross country/track
The postseason is where the greats shine and that is just what junior Robert Cheseret did in 2004. The Pac-10's track and field athlete of the year, Cheseret won five of six postseason tournaments, including the 5,000-meter NCAA national championship. Cheseret won the 10,000 meters at the NCAA regional, and at the Pac-10 championships he won the 1,500 meters, 5,000 meters and 10,000 meters, making him the only athlete to ever accomplish that triple crown. [Read article]




showAds('bigbutton')?>




showAds('mediumbutton')?>

showAds('wildlinks')?>