By James Kelley
Arizona Daily Wildcat
Wednesday, July 28, 2004
Print this


The UA sporting scene is more than just basketball and football. There are 16 other varsity sports plus dozens of club teams, including the men's hockey team, which is the third-biggest draw in town and among the most popular teams in all of college hockey. Here's the outlook for 18 varsity sports and the Icecats:

Football

Don't expect a Rose Bowl from the new coaching staff this year, but there certainly is nowhere to go but up. In 2003, the football team had a 2-10 record and was in the bottom of Division I-A in nearly all stats. It's always a bad thing when every week your fans are reminded how many teams play D I-A football (117). The Wildcats return 19 of 22 starters, but is that a good thing? The schedule should be a little easier than it was last year, when they faced two national champions and 10 bowl-eligible teams, but not by much, and some pundits are calling it the nation's toughest.

Volleyball

The members of the volleyball team's class of 2002, the best in the country, become juniors in 2004. After losing only a back-up player from a team so talented it was picked as the preseason No. 10 last year, despite being composed of mostly freshmen and sophomores, and adding Angie Ayers, an all-freshman team member for the Pac-10 who sat last year out with a knee injury, the Wildcats are poised for a return to the Final Four and more.

Soccer

In the soccer team's 10th anniversary season, expect the UA's lovable losers to make a serious run at their first winning record and NCAA tournament appearance. In 2003, the Wildcats set or tied 10 school records. Their 6-11-2 record was their third-best ever and a 1-1 tie with highly regarded rival ASU ended an eight-game skid against the Devils. Their 2-6-1 Pac-10 record was the best in school history and marked the first time the Wildcats won two conference road matches. Arizona returns all but one player.

Men's Cross Country

The 2004 season figures to be a big one for the men's cross country team, led by Pac-10 newcomer of the year Robert Cheseret. Last year, in below-freezing temperatures, the Wildcats finished 23rd at the NCAA Championships, but Cheseret fell down and was unable to make an impact on the standings. Senior Jonah Maiyo, also an All-Pac-10 winner, ended up finishing the highest for the UA at 59th. The UA appears to be on the right track in head coach James Li's third season, after missing the NCAA championships in his first.

Women's Cross Country

The women's cross country team will seek to improve on an eighth-place finish at the NCAA West Regionals by a mostly young squad. In 2003, the UA fielded a 13-member team, 10 of who were freshmen or sophomores. This year the Wildcats will be led yet again by senior Beth Hodge. Although they did not have anyone named to the All-Pac-10 team, don't call them slow. Arizona had six on the conference's All-Academic team, three of them on the ten-person first team, including Hoge, who had a 3.88 GPA and was the team's No. 2 runner, and junior Adrienne Goeller, who had a 3.78.

Men's Golf

It is a good news/bad news situation for the NCAA third-place men's golf team. The UA loses senior Chris Nallen, the seventh Wildcat to finish second at the NCAA championships, but may just have the talent to soften the loss. Freshmen Mark Lamb and Henry Liaw were honorable mention All-Americans for the 2004 Pac-10 champions. Liaw was also the individual Pac-10 medallist. Lamb, who is from Scotland, saved his best for last in his first year, finishing 24th at the NCAA championships.

Women's Golf

With the bitter taste of an uncharacteristically low NCAA finish (15th) still in their mouths, the women's golf team received a big blow to their 2004-05 chances. Superstar Erica Blasberg decided to skip her final two years and go pro. While the Wildcats have dealt with early defections before, such as LPGA tour notables Annika Sorenstam, Lorena Ochoa, Marisa Baena and Natalie Gulbis, the announcement came so late the UA couldn't recruit a replacement, as with Ochoa a couple years ago. That was two-time first team All-American Blasberg's first year.

Men's Tennis

The 2004-05 season will likely be a rebuilding year for the men's tennis team after its best finish since 1996. The Wildcats finished the year ranked No. 23 and their star, junior Roger Matalonga, ended with a No. 64 ranking in his second year, but they lose the services of three seniors on a squad of 12. Matalonga had a 24-11 record, 7-7 in the Pac-10. In his junior year, Paul Warkentin also had a 20-win season. Last year head coach Bill Wright won coach of the year honors for the west region, his fourth coach of the year award.

Women's Tennis

After a late run to the second round of the NCAA tournament, the women's tennis team seems poised to have its best season ever. After not winning a match from March 5 to March 28, the UA rallied to first make the tournament and then upset No. 21 Indiana in the first round. While they lose their No. 4 player, they return everyone else, including their top two: seniors Diane Hollands, 31-12 in singles matches, and Maja Mlakar. As a doubles team, Hollands and Mlakar were ranked as high as No. 5 last year.

Hockey

Coming off its worst season ever, the club hockey team should at least be back in the national tournament and back to a record like 24-6 or 30-4-1 instead of 11-14-2. After making the American Collegiate Hockey Association Tournament for 21 years in a row, every year it existed, the Icecats missed it in their 25th anniversary season by one spot. Handcuffed by injuries and academically ineligible players, the UA, which had never finished lower than eighth, finished No. 14. The Icecats return pretty much the whole team, including Keith Mitchell, one of the top defensemen in the league, who thought he would be a senior last year but has another year of eligibility.

Women's Swimming and Diving

Fresh off a third-place finish at the NCAA championships, the future looks even brighter for the women's swimming and diving team. The Wildcats lose only two seniors, so it looks like 2004 national women's coach of the year Frank Busch has much to work with. Arizona's latest stars appear to be sophomore Whitney Myers, who came one spot short of making the Olympics for the stacked U.S. team, and Emily Mason, the 400-free national champ.

Men's Swimming and Diving

Busch's other team, the men's swimming and diving squad, was no slouch in 2004, finishing fourth at the NCAAs. Still, nine of the 22 Wildcats were seniors, so another top-5 finish may not be possible for the UA, although you could have said the same in 2004. Right before the meet, Arizona lost one of its best swimmers, senior and member of the Mexican Olympic team Luis Rojas. This year, the Wildcats will be led by swimmers who made a splash this summer: South African Olympian Lyndon Ferns, British Olympian Simon Burnett and Tyler DeBerry, who fared well at the U.S. trials.

Men's Basketball

With a roster so thin that it enlisted the aid of backup QB and high school hoops star Ryan O'Hara so it could practice, it was no wonder 2003-04 ended in a disappointing first round loss for the men's basketball team. With the return of the 6-9 Isaiah Fox from a knee injury, the 6-4 Hassan Adams will move from power forward to replace 76ers first-round pick Andre Iguodala at small forward. A solid recruiting class will help solidify the backcourt and create a newly deep front court, and the Wildcats are in contention for a return to the Final Four. The early predictions - ESPN college basketball expert Andy Katz has them at No. 8 - are promising.

Women's Basketball

After what was arguably the women's basketball team's best season ever, the Wildcats may be on the verge of their first Final Four. Last year, the UA won all its home games, extending its home win streak to 27 games, and made the NCAA tournament (bowing out in the first round) for the second year in a row. Arizona also tied for its first Pac-10 title. The UA returns four starters, including Shawntinice Polk, an All-American her first two years, and All-Pac-10 point guard Dee-Dee Wheeler.

Gymnastics

Great expectations likely await the gymnastics team as the standout 2001 freshman class turns senior. Led by Monica Bisordi, one of the top all-arounders in the country and an All-American, the six-person senior class also includes former Pac-10 freshman of the year Katie Johnson, 2002 Pac-10 beam champion Stevie Fanning and Jamie Duce, who had the team high on the bars. In 2004, the Gymcats posted 11 scores (in 13 meets) that rank on the UA's all-time top 20 list.

Men's Track and Field

Just like last year was for the men's cross country team, this year will be the Robert Cheseret show for the men's track and field team. At the NCAA Championships, Cheseret scored 18 of the Wildcats' 21 points, with the other three points scored by fellow distance runner Kyle Goklish in his last meet. The UA will also lose top sprinter Jevon Mason, top thrower Kevin Opalka and one of its top jumpers in J.R. Harrison, but has a few stars in the making, like sophomore Daniel Marshall in the jumps and sophomore Jarred Sola in the shot put.

Women's Track and Field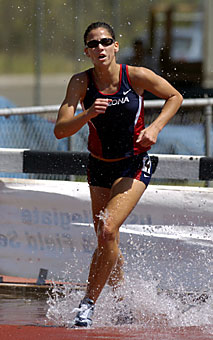 CHRIS CODUTO/Arizona Summer Wildcat
Freshman runner Jenn Ford runs through the water in the steeplechase in Arizona's track and field meet in late March. The Arizona women's track and field team finished in 65th place in the 2004 NCAA Outdoor Track and Field Championships.
The outlook is probably a little more positive for the women's track and field team. It loses senior Connie Jerz, an All-American, who scored the Wildcats' only points at the NCAA meet. However, the UA does return senior sprinter/hurdler/jumper Sharifa Jones, who set two school records and advanced to the finals of the long jump at the U.S. Trials. Juniors Marquita Taylor and Angel Perkins and sophomore Tiffany McDonald look to be stars of the future, ready to complement junior Rachel Varner, the Pac-10 discus champ who emerged as one of the top throwers in nation in her second year.
Softball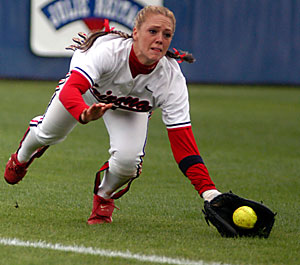 CLAIRE C. LAURENCE/Arizona Summer Wildcat
Outfielder Autumn Champion dives to take a hit away from a UCLA batter during the top-ranked Wildcats' 5-4 come-from-behind victory in early April over the second-ranked Bruins. Arizona missed their first World Series since '87.
Despite spending most the season at No. 1 in the country, the 2004 softball team will be remembered as the first to miss the College World Series since 1987. For a program that considers a year without a national title to be a lost season, there will be plenty of motivation for this year. Once again Arizona will be very talented and Alicia Hollowell won't have to pitch three games a weekend with the addition of top high school pitcher Taryne Mowatt. But after losing its three and four hitters, Wendy Allen (No. 1 in the country in RBIs) and Mackenzie Vandergeest (No. 3), will the UA have enough power?
Baseball
With a team so bereft of pitching that it used its ace as a closer a couple times, Andy Lopez led the baseball team to its 15th World Series appearance, its first since 1986, when it won their last of three national titles. Arizona will return nearly the whole team. The 2004 recruiting class, which should be good (Lopez' first class was ranked No. 10 and his second No. 4), is stocked with hurlers that should give the new ace John "May Day" Meloan some help.


Write a Letter to the Editor