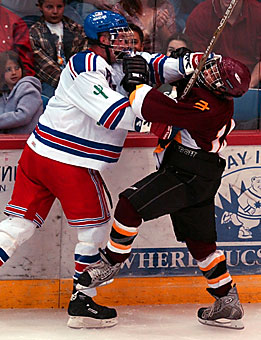 CHRIS CODUTO/Arizona Summer Wildcat

Going into last year the Icecats had made it into the American Collegiate Hockey Association Tournament 21 years in a row.

By Brett Fera
Arizona Daily Wildcat
Wednesday, July 28, 2004
Print this


Psst. Hey, new kid... over here.

So tell me the truth ...

You're a freshman, and you secretly don't want to tell your parents why you REALLY came to the UA.

I know it's not because of the school's Harvard-esque academic reputation branching across any of its 122 majors and 30 schools and colleges, but really because of a much simpler fact: Arizona has a damn good basketball team.

Oh, come on. Mom and Dad aren't watching; you can say it here. I see right through it, even if your folks can't - and I promise you're not alone.

I am here as your tour guide - your first professor, if you will – and boy, do I have some news for you (your tuition money is going to good use, I promise).

The UA athletic landscape is about more than just basketball. Really, it is.

Sports in Tucson are no longer just sports - they're a way of life.

From softball to soccer, baseball to golf, men's and women's hoops to football - YES, football - there's enough to go around for everyone.

And that doesn't even break the surface.

Ever heard of the Freshman 15? Trust me, after a semester of union food, you will. But I bet you didn't know that the UA campus recreation center (located at Sixth Street and Highland Avenue) has personal training services to offer its members. That's right, you're now a member of the Rec center, too, where intramural stardom awaits you and some truly adventurous outdoor experiences are just calling your name.

That and much more is here, and now you are too. So sit back, buckle up and enjoy the next four, five or eight years.
---
HOW TO GET MEN'S BASKETBALL TICKETS
If UA sports is a religion, then praise be to Lute - Olson, that is. And if UA hoops is the Holy Grail, then McKale Center must be the roundball Mecca of the southwest.
UA basketball isn't just the hottest ticket in town.
It's actually the hottest ticket in the Pacific-10 Conference, if not most of the college basketball landscape. Over the past decade and a half, not only has no team won more games than your soon-to-be-beloved Wildcats, but not one game in the 14,565-seat McKale Center has failed to be deemed a sellout in close to two decades. The UA athletics department does not offer single-game general admission tickets, barring special circumstances. Every seat in
McKale for every game is generally accounted for before the season even starts.
So as you stroll through your first month or two in this brick-laden oasis we call our campus, you know in the back of your head that getting basketball tickets is a must.
The problem is, you go to school with more than 35,000 others who came to the UA for the same reason, and they wouldn't tell their parents either.
So how do you do it - how do you actually get a seat in McKale?
Here's the plan:
Zona Zoo
ZONA ZOO
Final date to purchase a pass and be entered in the men's basketball priority lottery: Friday, Sept. 17
Total cost of a pass: $40 (includes entry to football games)
Number of student tickets available for men's hoops: approximately 4,600 (split into two sessions)
Number of Zona Zoo passes sold last year: 7,400
Buy a Zona Zoo pass for $40. You get a cool T-shirt to wear to games, a cool credit-card-looking thing to show how important you've suddenly become, and most importantly, priority entry into the men's basketball ticket lottery.
Sure, buying entry into this campus-exclusive club gets you into football, women's basketball, volleyball, baseball and softball games already, but most important to many newcomers is the ability to get lower-level basketball tickets in McKale Center.
Only those students who purchase a Zona Zoo pass prior to Friday, Sept. 17 will be entered for lower-bowl seats.
Last year, approximately 7,400 Zona Zoo memberships were sold, while the UA athletics department sells about 4,600 half-season student men's basketball ticket packages – 2,300 per half-season. Buying a Zona Zoo pass does not guarantee the opportunity to purchase tickets - which cost about $35 for six games - but is the most viable option for students.
Zona Zoo members who are not selected for lower-bowl tickets will then enter a lottery for upper-level tickets. Students who do not wish to purchase a Zona Zoo pass can enter the upper-level lottery as well by calling the McKale Center ticket office.
Games during winter break
Just because school is on hiatus during the late December-early January winter break doesn't mean the basketball team is. Student packages and single-game tickets generally go on sale from the McKale Ticket Office for games over winter break (pending availability) midway through the fall semester. Ticket prices are face value when purchased through the McKale Ticket Office.
Though fall semester final exams are set to end Dec. 17 and residence halls will close on Dec. 18, the UA men's basketball team is currently scheduled to square off against Wyoming in McKale Center on Dec. 22. The UA will also take on ASU after the New Year and will host Butler, Richmond and Eastern Washington in the three-day Fiesta Bowl Classic Dec. 28-30.
eBay
In recent years, men's basketball student tickets - along with general admission tickets that don't require use of a CatCard or Zona Zoo pass - have gone on sale via eBay for anywhere from $75 per seat (for half of a season) to upwards of $300 per seat, depending on location in McKale. Some single-game general admission tickets are also sold by season ticket holders via eBay, with costs varying depending on seat location.
Day of the game
Depending on who the Wildcats are set to face, traveling fans of the visiting team may not have used each and every allotted ticket. Depending on when and if the visiting school returns unused tickets to the UA, the extras could go on sale during the week prior to the day of the game or on the day of the game, as late as 1 hour, 30 min. prior to tipoff. In other words, just keep your ears open and tickets might be easier to come by than you think.
---
THE HIDDEN GEMS OF UA SPORTS
Icecats
So 2003-04 was a down year. But 25 years, 521 wins, and average attendance pushing a few thousand fans per game proves that the Icecats are the not-so-best-kept secret of the UA sports lineup.
With games at the 7,500-seat Tucson Convention Center arena located in beautiful downtown Tucson - Tucson does have a downtown, you just have to look closely - you might need to make friends with some upperclassmen who can drive you there if you're like most freshmen and don't have a car.
But don't let that deter you. Fights, good hockey, loud music and some of the wackiest characters any city, let alone Tucson, has to offer mean nothing but good old-fashioned fun on a Friday or Saturday night. Tickets start at $6.75 for students, and the season kicks off on Oct. 22 against rival ASU. For more information, visit uaicecats.com.
Intramural sports
All you former high school big men on campus and three-sport lettermen, now it's your turn to listen up.
If you want to show off that prep city championship ring or don that old superstitious number you've worn since you were in pee-wees, then intramurals are for you.
The UA department of campus recreation hosts everything you can think of, from flag football to volleyball to indoor speed soccer, a college cult classic played indoors on a basketball court using two soccer balls.
Fees vary by sport, but are affordable for the average college student. Students can form their own teams, with many entry periods beginning Aug. 23, or can join other teams as free agents. Free agent play days begin Sept. 1 and actual competition for most sports begins Sept. 12.
For more information on fees, program dates and free agent play days, go to the campus recreation center's intramural Web site at http://campusrec.arizona.edu/intra.
---
So there you go. The starting guide to becoming the ultimate Wildcat fan is at your fingertips. It'll be our little secret. Just don't forget to study.


Write a Letter to the Editor