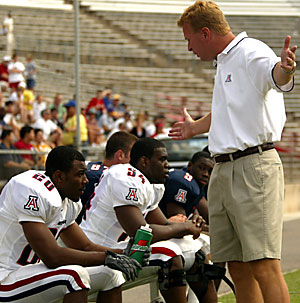 KEVIN B. KLAUS/Arizona Summer Wildcat

Arizona head football coach Mike Stoops talks to a few of his players during the Spring Football scrimmage in mid-April. Stoops is beginning his first year as head coach after replacing Coach John Mackovic.

By James Kelley
Arizona Daily Wildcat
Wednesday, July 28, 2004
Print this


New football coach Mike Stoops has yet to coach a game for the UA, but his hiring is already paying dividends.

As of last week, the UA has sold about 5,000 more season tickets than last year, said Chris Del Conte, senior associate athletics director for sports programs and operations.

Arizona hasn't even started its normal season ticket blitz, which begins at the start of August.

The UA has already essentially gained back the fans it lost under former head coach John Mackovic, who was fired five games into his third season.

"We're right where we should be, nowhere near where we would like to be, but the enthusiasm of Mike Stoops has been phenomenal," Del Conte said.

In September, the Wildcats lost three games in a row, 59-13, 48-10 and 59-7. Fans chanted "Fire Mackovic" and firemackovic.com got 24,000 hits in a little more than two weeks. The Wildcats ended the season 108th in total offense, 113th in scoring offense, 109th in total defense, 107th in scoring defense and made only two field goals.

Despite the recent troubles, student season tickets for football jumped from about 2,500 in 2002 to 7,000 in 2003.

Del Conte said he won't have an idea of what the ticket sales will be like until school starts and they get a chance to sell them to students in earnest. Del Conte said the goal is to sell 9,000 student tickets.

We're right where we should be, nowhere near where we would like to be, but the enthusiasm of Mike Stoops has been phenomenal.

- Chris Del Conte, Senior associate director for sports programs and operations

Last year marked the beginning of the Zona Zoo, a student spirit club, which eliminated the actual tickets, replacing it with a card that granted students entry into every home football game. Becoming a Zona Zoo member also put students in the lottery for men's basketball tickets, and granted free entrance into sports such as volleyball, softball and baseball.
Del Conte attributed the jump in student football ticket sales to tying them into the wildly successful basketball program.
"I think as we improve our football product, people will want to be a part of that," Del Conte said
Stoops has been featured in ESPN Magazine, the Sporting News, Sports Illustrated and Sports Illustrated On Campus. Stoops' popularity has already translated into high attendance at his first spring game and television exposure.
Though attendance marks are not kept officially, Stoops' first spring game drew about 5,500. In 2003, about 450 fans showed up.
Recently, Fox Sports Net National picked up the Sept. 18 home game against Wisconsin and the game at Southern California, along with the Arizona State game, always on FSN national. Stoops' Pac-10 opener against Washington State was moved up a week for ABC.
While Del Conte doesn't have solid figures on the team's profits yet, he knows they will make more money in 2004 than last year.
"Without question, I think significantly more just because you are on ABC," Del Conte said. "We'll always be on TV because we are Arizona, but again it is all about your product; the more we win, the better the product is, the more exposure we will get."
The Cougar game is the UA's first appearance on ABC since 2001.
"It's a huge deal. If you look at Washington State, because they went to the Rose Bowl, they were on ABC three times," Del Conte said. "That's a huge deal because it is national exposure. ABC has a television contract and when you get on, that is huge for the university, not just for the athletic program. It is a huge way for the University of Arizona to be a focal point all across the country."
The UA athletic department receives no money from the state.
Since 1999, attendance has steadily declined to 42,765 in 2003, 50th in the country and the lowest since 1997, a year before it jumped to 50,206.
Dick Tomey, the school's all-time winningest coach, fell out of favor and was fired and attendance dropped by nearly 5,000 the next year in 2001, although Del Conte says season ticket sales have moved back up to about the Tomey average in the 56,002-seat Arizona Stadium.
In 1994, following a 29-0 win over Miami in the Fiesta Bowl and preseason No. 1 ranking by Sports Illustrated, attendance rose to an all-time high average of 56,562 (This number is larger than the stadium's capacity. Can we check this out?). Following a school-best 12-1 season, a win in the Holiday Bowl over Nebraska and a preseason No. 3 ranking in the coaches poll, the UA averaged 51,151.
Del Conte said he doesn't know what attendance could be for the Sept. 4 season opener against Northern Arizona, which is on Labor Day weekend, but said he would "love to see 45 to 50,000."
In 2002, the last time the UA played the Division I-AA NAU, the attendance was 48,446. At the end of a disappointing season, 4-8, more people actually ended up going to the Lumberjack game than the ASU game (47,005), which usually is at least close to selling out.
2004 football schedule
Sept. 4, 7:00 p.m.
Northern Arizona
Sept. 11, 7:00 p.m.
Utah
Sept. 18, 1:00 p.m.
Wisconsin (FSN National)
Sept. 25, 12:30 p.m.
Washington State (ABC)
Oct. 9 , 12:30
@ UCLA 12:30 p.m.
Oct. 16 , 12:30 p.m.
@ Oregon
Oct. 23, 4:00 p.m.
California
Oct. 30, 4:00 p.m.
Oregon St.
Nov. 6, 1:30 p.m.
@ Washington
Nov. 13, 7:15 p.m.
@ USC (FSN National)
Nov. 26, 1 p.m.
Arizona State (FSN National)


Write a Letter to the Editor