Thursday, February 17, 2005


Comedian show still a goal for ASUA
Chances of finding a high-profile comedian to perform this semester are slim, with student leaders running into obstacles, including scheduling conflicts.
The Associated Students of the University of Arizona wanted a comedian to entertain students, which they originally intended to happen sometime this week, but student leaders are having difficulty securing talent to perform this semester.
Fernando Ascencio, the ASUA Speakers' Board director, said they are still pursuing some of the nation's top comedians for a comedy show before the semester ends but "the possibility keeps decreasing." [Read article]



UA could get $4 million for nursing
PHOENIX - In an attempt to reduce the statewide nursing shortage, legislators are asking for $4 million annually for the next five years to supplement nursing education programs throughout the state.
A bill based on the recommendations of an Arizona Board of Regents Health Science Input Group would expand nursing programs at universities and community colleges, with the goal of doubling the number of nursing graduates annually by 2010. [Read article]



Students unaware of ASUA election campaign
Election officials wanted candidates to change the face of campus once campaigning began, but with the first week almost over, there's no makeover in sight.
Associated Students of the University of Arizona campaigns for president, vice president and senate positions began Monday and will continue until March 1 when primaries begin.
Adam Falck, ASUA election commissioner, said he was disappointed in how little campaigning there was. [Read article]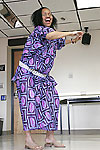 Students get a taste of African dance in class
The 51-year-old dancer knew more about hip-hop than the students in the audience. She also knew how to dance to African music and be extremely cool.
Barbea Williams, a dance teacher at the UA and at the Tucson Dance Theater, held a lecture on African dance in the César E. Chávez building yesterday and spiced up her talk with dance performances to African music and American rap.
Williams said she grew up with music, doing "cha cha cha" and other dances with her family and taking ballet classes. She said that even though dancing has always been a part of her life, it took her many years to appreciate it. [Read article]




Two UA students win USA Today national awards
Two UA students were officially recognized in today's USA Today as members of the All-USA College Academic Team. The award is given to 60 students nationwide who are divided into first-, second- and third-place teams.
Keren Raz, a senior majoring in English and political science, was selected for the second team and Ryan Johnson, an economics and international studies junior, was selected for the third. Both are Arizona Daily Wildcat employees. [Read article]



Risks make a good leader
Leaders are not born nor bred, but rather they are "ignited" by something inside of them.
UA alumna Lisa Lovallo, who serves on the leadership board for the Dean of Students Office, spoke yesterday on what it is to be a leader and where students should go about pursuing challenges and leadership roles they wish to take head on.
In the speech, "Student Leadership Development: What is it, Where do I get it and Why is it Important?" Lovallo compared students to matchsticks who must ignite themselves in order to get involved, and the UA is their matchbox with endless amounts of opportunities to take on leadership roles. [Read article]




Fast facts
Things you always never wanted to know
A freak birth was considered an ominous warning by the diviners of ancient Rome. From the Latin monere ("to warn"), they got monstrum ("divine warning of ill omen"), from which our word "monster" is derived.
Some 19 centuries ago, the Roman naturalist Pliny the Elder (Caius Plinus Secundus) recognized earthquake warnings that today's geophysicists also keep an eye out for: foreshock, turbidit in wells and frightened birds. Pliny also listed an anomalous "fog" in an otherwise clear sky, an idea that only now is catching on as a valid signal. [Read article]




showAds('bigbutton')?>






showAds('mediumbutton')?>

showAds('wildlinks')?>