Monday, February 21, 2005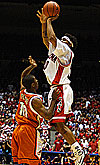 Men's Hoops: Senior Salim drops bombs on Beavers
Wildcats all smiles during romp over Oregon State
ARIZONA 91, OSU 70
The only people scowling in McKale Center yesterday afternoon were the Oregon State Beavers.
The No. 10 Arizona men's basketball team (23-4, 13-2 Pacific 10 Conference), particularly guard Salim Stoudamire, was all smiles during their 91-70 win over the Beavers (14-11, 6-8) in front of 14,592 fans on senior day.
"Disgustingly good," was Stoudamire, said fellow senior Channing Frye, who scored 15 points and added 11 rebounds. [Read article]




Softball: Cats sweep weekend doubleheader
All throughout this early season for the Arizona softball team, Kristie Fox has been there to deliver the big hit.
With her teammates waiting for another swing of the bat, this time in extra innings yesterday, Fox came through again - with an out.
Fox flied out to deep center field to score Caitlin Lowe, and the No. 1 Wildcats escaped with a 2-1 win over Hawaii in eight innings for a sweep at the Worth Wildcat Invitational at Hillenbrand Stadium. [Read article]




Women's Hoops: UA returns to third place after loss to Oregon
With only three games remaining in the regular season, Arizona women's basketball was in need of a win against Oregon Saturday in hopes of breaking a three-way tie for second place in the Pacific 10 Conference.
But the Wildcats (18-9, 10-5 Pac-10) fell short to the Ducks in MacArthur Court, 69-51, and dropped back to third place in conference standings.
"We were definitely trying to establish a transition game, and we did early," Arizona head coach Joan Bonvicini said. "We were disappointed that we weren't able to control the tempo better. It felt like we were really playing a disjointed game on our part." [Read article]



No. 10 baseball takes first loss of season
The No. 10 Arizona baseball team appeared to be headed to its third consecutive weekend sweep and subsequent rise in the national rankings.
That is, until it ran into Texas-Pan American right-hander Dane Mason.
Mason (1-3) shut down Arizona's potent offense, throwing eight scoreless innings, as the Broncos (3-9) took down the Wildcats 7-0 yesterday in Edinburg, Texas.
Arizona (9-1) still took two out of three in the series, winning 8-2 on Saturday and 18-3 Friday evening. [Read article]




Gymcats drop first home meet
The No. 18 Arizona women's gymnastics team suffered its first home loss of the year on Friday as the Gymcats (194.3) fell to No. 16 Oregon State (195.075).
"It's upsetting to the team that we performed poorly," said Gymcats head coach Bill Ryden. "It was probably the roughest meet of the year so far."
Arizona came out strong, taking an early lead over the Beavers after the first rotation on vault. Senior Monica Bisordi (9.875) tied OSU's Thérèse Videan for the individual title. [Read article]




Icecats finish season above .500, miss playoffs
The 2004-2005 season ended for the Arizona men's club hockey team this weekend the same way it began in the Tucson Convention Center Arena - with a pair of losses to No. 11 ASU.
The Icecats (13-12-1) dropped a pair of games to the American Collegiate Hockey Association national tournament-bound Sun Devils (18-6) 6-3 Friday and 5-4 Saturday in two games head coach Leo Golembiewski said were indicative of the entire season. [Read article]




Ruggers sweep San Diego, Laxcats split with Utah
The Arizona men's club rugby stared an eight-point deficit in the face Saturday, rallied for the win and improved to 3-1 by sweeping two San Diego schools over the weekend.
The Ruggers found success in a 41-0 thrashing yesterday against San Diego at Silverlake Park. Although the venue had been changed due to inadequate field conditions from Saturday night's rain showers, the Wildcats were able to complete the weekend sweep after a 16-15 win Friday over San Diego State. [Read article]



Tennis weekend rained out
All four Arizona tennis matches in Southern California this weekend were cancelled because of rain.
The No. 47 women's team was supposed to start its Pacific 10 Conference schedule, but was washed out of their matches at No. 12 Southern California and No. 11 UCLA.
The Wildcats hoped to rebound from a pair of losses last weekend, but will have to wait until Friday to try and break their two-game skid. [Read article]



Track continues success
Senior pole-vaulter Connie Jerz led the Arizona track teams to a sensational meet Saturday in Flagstaff, winning the women's pole vault with a clearance of 13-10.
In the process, Jerz improved her automatic qualifying mark for the NCAA Indoor Championships, held March 11-12 in Fayetteville, Ark.
"She just needs to make some minor adjustments," said Arizona head coach Fred Harvey. "She ran through on her first two attempts, which only gave her one opportunity to hit it." [Read article]



Women's golf opens tourney
The Arizona women's golf team opens play in the Wildcat Invitational today at Arizona National Golf Club.
The Wildcat Invitational is a 14-field tournament held today and tomorrow, starting at 8 a.m. both days, with Pacific 10 Conference teams ASU, Oregon, Oregon State, Stanford and UCLA competing.
"It's always nice to play in front of a home crowd," said Arizona head coach Greg Allen in a press release. "There is more pressure to play well. It will be a good field and it's a great chance for Tucson women's golf fans to see future stars of the LPGA." [Read article]




showAds('bigbutton')?>






showAds('mediumbutton')?>

showAds('wildlinks')?>