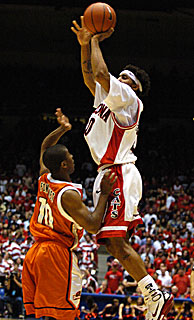 CHRIS CODUTO/Arizona Daily Wildcat

Arizona's Salim Stoudamire goes for one of his nine successful 3-point attempts during Arizona's game against Oregon State yesterday in McKale Center. Stoudamire set the school record for most 3-point shots made in a game as Arizona defeated the Beavers 91-70 on senior day.

By Roman Veytsman
Arizona Daily Wildcat
Monday, February 21, 2005
Print this


Wildcats all smiles during romp over Oregon State
ARIZONA 91, OSU 70

The only people scowling in McKale Center yesterday afternoon were the Oregon State Beavers.

The No. 10 Arizona men's basketball team (23-4, 13-2 Pacific 10 Conference), particularly guard Salim Stoudamire, was all smiles during their 91-70 win over the Beavers (14-11, 6-8) in front of 14,592 fans on senior day.

"Disgustingly good," was Stoudamire, said fellow senior Channing Frye, who scored 15 points and added 11 rebounds.

It was all about Stoudamire, though.

The guard from Portland, Ore., had one of the best performances of his career, setting a new school record with nine 3-pointers, on his way to 31 points.

"It was fun. I have to credit Mustafa (Shakur) for finding me. I've been feeling strong for a while with my 3's," Stoudamire said.

Stoudamire came out gunning from the start, hitting a 3-pointer to start the game, and Frye followed with a dunk.

The Wildcats jumped out to a 14-3 lead, thanks to eight Frye points.

Oregon State battled back to cut the lead to 23-20, but it would never inch closer thanks to more Stoudamire 3-pointers.

Arizona led 33-25 with 2:26 left in the first half before Stoudamire went on a spree.

He scored the last 12 Wildcat points of the half with four 3-pointers and sent Oregon State into the locker room down 12.

"He drained the energy out of us and gave it to everyone else in the gym," said Oregon State head coach Jay John.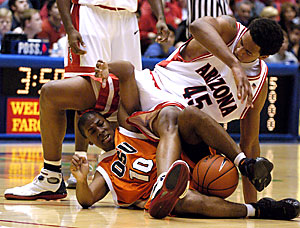 CHRIS CODUTO/Arizona Daily Wildcat
Senior center Channing Frye collides with Oregon State's Jason Fontenet during yesterday's game in McKale Center.
Arizona jumped on Oregon State at the start of the second half, using a 26-8 run to stretch the led to 71-44.
"I think at halftime, like we always do, we make really good adjustments. We came out there and played real hard the first five minutes," Frye said.
Stoudamire's 3-pointer in transition with 13:36 to go caused John to call a timeout, but it wouldn't help. Less than two minutes later Stoudamire made another 3-pointer, resulting in a second 30-second timeout.
After the shot, the rest of the players on the floor embraced Stoudamire as he smiled at the fans.
With over nine minutes remaining in the game, Arizona head coach Lute Olson took Frye and Stoudamire out of the game to receive their curtain calls, but Stoudamire wanted more than just the record.
"I thought (Olson) was going to put me back in. I was going to kiss the floor," Stoudamire said.
The third senior on the team, Matt Brase, got into the game late and didn't disappoint, scoring a career-high four points and grabbing a career-high four rebounds in his farewell game at home.
"This has been a great experience," Brase said. "I've probably seen every game while growing up. I just want to stay involved for as long as possible."
The underclassmen did their job as well, contributing to Stoudamire's barrage. The Wildcats held Oregon State to just 36 percent from the field in the second half.
Junior forward Hassan Adams had a double-double with 13 points, 10 rebounds and five steals.
Shakur didn't fill the stat sheet, but he was able to find Stoudamire time and time again.
"Salim has the hot hand. When someone is as hot as him, you do everything you can do get him as many touches as possible," Shakur said.
Stoudamire's record-breaking 3-pointer came with 10:16 left to play on an assist from Frye, and broke the previous high of eight by Jason Gardner in December 2001.
He was one short of the Pac-10 record, held by Stevin Smith of ASU.
"We knew Salim had a chance at the record, and it was only a matter of time before he would get it," Brase said.
For Arizona, getting the win was important, but having the seniors play a crucial role was even more special.
"What more can you say about Channing and Salim?" Olson said. "They have started all four years, and it's pretty obvious they've worked hard to become better basketball players."


Write a Letter to the Editor