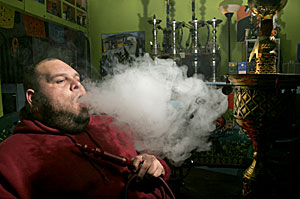 KEVIN B. KLAUS/Arizona Daily Wildcat

Roger Smiley, owner of Smiley's Ultimate Hookah Lounge and Coffee, exhales a drag from his hookah yesterday. Smiley hopes his hookah bar will be a safe hangout for college-age kids who would otherwise be smoking pot.

By Lauren Hillery
Arizona Daily Wildcat
Tuesday, February 22, 2005
Print this


Hookah offers safe and relaxing alternatives

College students are always looking for the newest, hippest and easiest trends to keep their bored little minds occupied. While smoking weed will always be fashionable, it's illegal too. As an alternative, locals, young and old, are getting together to smoke the legal way, with the help of the hookah.

The pastime has become even more popular in Tucson since Roger Smiley and his wife Sarah opened Smiley's Ultimate Hookah Lounge and Coffee last year.

"It's a relaxed atmosphere like you left your bedroom and went into the party room to hang out and laugh. Kick back with your friends and smoke a hookah," Smiley said. "We're also teaching respect for that culture."

As the only hookah lounge in town, Roger Smiley believes that their operation has not only filled a void in Tucson, but also helped revamp their neighborhood, located in the Iron Horse District.

"Our business practice is derived from the Old World, making the customer feel like home and family," he said. "We believe that's the only way it should be done."

What exactly is it?

The hookah is a smoking device that Smiley describes like the human body. It consists of a bowl of water, the head, which is attached to a long stem, the heart, and that is attached to the vase, the body. On top of the stem is a tray for ashes that also holds the charcoal and tobacco. The actual smoking devices are long tubes with mouthpieces at the end.

Hookah smokers smoke shisha, a golden Virginia tobacco plant which is leached of all nicotine and tar during a 16-week washing process. This process leaves only 0.05 percent nicotine in the final product. Also spelled "sheesha," shisha is then dried and marinated in honey, molasses and fruit to become finalized as the mu'essel form.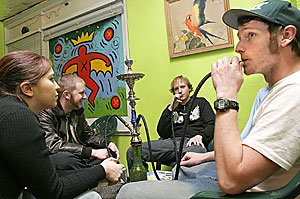 EVAN CARAVELLI/Arizona Daily Wildcat
From left to right, political science freshman Amanda Tellez, Tucsonan Dave Lortie, pre-pharmacy freshman Jeff Tiedje and music education sophomore Robb Hansen share hits off a hookah Saturday at Smiley's Hookah Bar.
Because shisha is a derivative of tobacco, smoking can result in a small buzz, but according to Smiley this is mostly attributed to the pure lack of oxygen to the brain.
Smiley and his wife Sarah have revamped hookah smoking by reinventing the piece of the hookah that the coals rest on. They invented and patented a glass screen that eliminates the toxins that can come from the traditional aluminum foil covering.
Smiley's glass screen makes smoking hookah even less harsh than smoking with the aluminum screen. It would take 200 bowls with the glass screen to equal the same amount of nicotine consumed in one pack of cigarettes, whereas with the aluminum screen, one bowl equals one pack of cigarettes, according to Smiley.
"Since we're the minority, we're battling the hardest to teach it our way. It's the lovely way," Smiley said. "I'll take the Pepsi Challenge against anyone."
Although it's experiencing rising popularity, smoking hookah has roots that extend back thousands of years.
The act of smoking hookah is said to have originated in India. However, it was popularized in 17th century Turkey, where it was used as a means to relax and reflect on the events of the past day.
Cultural awareness
Carol Ann Cruger, owner of The Casbah Tea House on 628 N. Fourth Ave., believes hookah offers an important look at the cultures America is at war with.
"Because America is going to war with Arab nations, we're becoming exposed to a cross-cultural exchange. The hookah is a part of the Mid-Eastern culture and because (of) this explosion of worldviews, people are learning a lot about each other," Cruger said.
The Casbah Tea House has an authentic Egyptian tent in the back with palm trees and stuffed lions. The Casbah offers hookah everyday, but on Friday and Saturday nights the authentic experience is enhanced by belly dancers.
"It lends itself to a fantasy realm so you can transcend reality to another time and age," said Cruger, who was first exposed to hookah by a friend.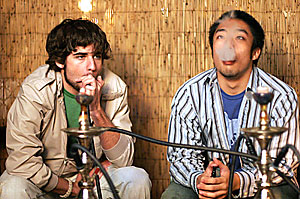 EVAN CARAVELLI/Arizona Daily Wildcat
Engineering freshman Connor Mansager, left, and media arts freshman Kel Asai enjoy a 'French vanilla' blend of shisha at Smiley's Ultimate Hookah Bar and Coffee late Saturday night.
Age isn't just a number
In a college town, like Tucson, the main source of entertainment caters to the over-21 crowd. However, hookah businesses provide a safe and alternative form of entertainment for those under 21.
"It's great for those who are tired of the bar scene. Kids want to hangout freely without getting trouble with the law," Smiley said.
For some, hookah offers the perfect balance of partying and relaxing.
"It's a good alternative to the normal activities. I'm not much of a drinker, so that doesn't really appeal to me and I don't really like to smoke," said Kara Chesser, media arts sophomore. "But hookah is a nice way to relax at the end of the night and hang out with friends, whereas a party may be loud and obnoxious.
"It's not as harsh as cigarettes and it doesn't last as long as drinking, so it's a nice balance. You can still enjoy yourself and not have to worry about how to get home."
When and where
The Casbah House is open Sunday through Thursday from 11 p.m. to 10 p.m., and Friday and Saturday from 11 a.m. to 11 p.m. They also have a full Mediterranean, vegetarian - which they call "vegeteranian" - menu including 60 varieties of tea, juices and smoothies.
The Casbah House charges $10 an hour per hookah with a minimum of two people per hookah. They have about 15 flavors to choose from.
Smiley's is open Monday through Thursday 5 p.m. to 1 a.m., and Friday and Saturday 5 p.m. to 2 a.m.
The lounge offers about 30 flavors of shisha, the most popular right now being tropical fruit punch, honey banana and white peach. Hookah costs $10 per hour, with four people per hookah and the first bowl on the house. Refills range from $4 to $10 depending on the flavor and quality.
They also offer Kava, a Hawaiian drink used in celebrations. Kava is used to help with stress because of its high levels of anti-oxidants. It costs $1 per shot. Smiley's also sells hookahs, which range from $40 to $225.
Smiley's Ultimate Hookah and Coffee, 503 E. Ninth St.
The Casbah Tea House, 628 N. Fourth Ave.


Write a Letter to the Editor