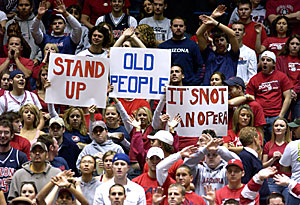 CHRIS CODUTO/Arizona Daily Wildcat

Students show signs encouraging fans to stand up during Stanford's game against No. 14 Arizona in McKale Center in Tucson Feb. 12.

By J. Ryan Casey
Arizona Daily Wildcat
Wednesday, March 2, 2005
Print this


After 18 years, UA students finally have a place inside McKale Center where they can cheer in unison during men's basketball games, but is there really reason to celebrate?

In the process of "correcting" the problem of a student section-less McKale Center, Arizona Athletics failed to right the most obvious problem.

Tickets will still be assigned via a lottery system.

To their credit, instead of a random lottery, the system will be weighted based on how many years a student has owned a Zona Zoo pass. Those with more years will have a better chance at winning tickets.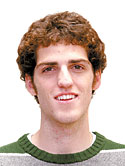 J. Ryan Casey
Staff Writer
They must have been getting too close to rectifying the problem, as Arizona Athletics reduced the number of tickets that can be won by a student from two to one.
Wonderful.
McKale's already lackluster student fans will now have further reason not to attend a game, this time on the basis that they don't know anyone else who is going.
The seating is now general admission. First come, first serve. Those who arrive first get the best seats in the arena. Again, another step in the right direction, but it still doesn't solve the problem.
Lotteries leave too much to chance. Too many fans that don't actually care about getting tickets get them. The best case scenario for the men's basketball team would be to have the most die-hard fans get the tickets. After all, they'll be the loudest, they'll be the ones who take the opposing team off their game, the ones who will be heard around the nation on Fox Sports Net (and ESPN if the Pacific-10 Conference ever decides to sign a contract with them - but that's a different issue).
Yes, every men's basketball game has been sold out since the 1987-88 season and that is because of all our wonderful alumni, but let's face it, there's nothing else to do in Tucson.
Arizona athletics are Tucson.
I know the university receives the majority of its funding through men's basketball games, but for once, just once, can't sports not be about the money, and focus on what they're really supposed to be about, the fans?
Of Duke's Cameron Indoor stadium's 9,000 seats, one-third of them go to students. That's 3,000 seats. In comparison, McKale holds nearly 15,000 and of those seats, only 2,327 go to students - a dismal 16 percent.
After having been to Pauley Pavilion in Westwood, Calif., for the Cats-Bruins game Feb. 12, I left rather impressed with how loud and organized the UCLA student section was.
More impressive, however is the amount of dedication required on behalf of the students in order to get the tickets.
Around 8 p.m. the night before tip-off, students line up outside of Pauley Pavilion to receive a priority number at 6:30 the morning of the game. Then and only then, with that number, do they get the privilege of attending the game later that night.
Keep in mind this is not just any old program; this is a Bruins program with 11 NCAA National Championships, a program that won 88 straight games in the early '70s. It goes to show a program can be successful and still cater to those who are actually attending the university while the game is being played.
At North Carolina, tickets are in such high demand, that they have students line up to get a number to possibly get tickets. Then, winning numbers are announced for individual games at a later date. The students wait for tickets over there even though they aren't even guaranteed. If there ever were a way to allocate tickets through a lottery, this would be it.
Arizona Athletics needs to seriously examine the situation regarding student tickets at McKale Center. Either take some tickets away from the alumni (blasphemy!) and give more to the students, or ensure that students who actually want to go to the games get the tickets.
I am tired of those fans who win tickets and never show up. It seems a bit ludicrous to me that during the Washington State game on Jan. 29, almost half of those students who were awarded tickets arrived only as the game neared halftime, or not at all. Yes, the game was a gimme. Yes, it was a noon local time start, but are those excuses? Not in the least.
There are an extraordinary number of students who would kill to have at least one ticket to any game. For those of you who decided not to show up, you missed a good game (even in defeat - that is possible you know, for a game to be good even though Arizona lost).
It seems to me that Arizona Athletics did this to have students keep their mouths shut about a student section - I mean the students got what they wanted.
Didn't they?


Write a Letter to the Editor