Tuesday, September 7, 2004

Football: Cats trade nervousness for win
In the wake of its 21-3 season-opening victory Saturday over NAU, the Arizona football team can finally take a much-needed sigh of relief.
All the nervousness, anxiety and pressure that accompany the advent of a new coaching staff can be overlooked, at least temporarily.
"A lot of people were nervous," admitted junior tailback Mike Bell about the team's first time playing under head coach Mike Stoops, in front of more than 49,000 fans. "They thought there was a lot of pressure. I kind of play through it. I was kind of nervous at the beginning but I just play through it - that's how I've been my whole life." [Read article]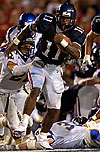 Football analysis: Greater tests yet to come for Cats
Keeping ball in Bell's hands among keys to victory for UA against NAU
As the old sports adage goes, what worked against one opponent probably won't work against another.
The UA football team managed just seven points through the first 50 minutes of Saturday's game against Northern Arizona, but held the visiting Lumberjacks to only three points - a feat Arizona likely won't duplicate this week against No. 17 Utah. [Read article]




Soccer off to best start ever
The Arizona soccer team won both of its games this weekend in the Arizona Invitational, pushing its record to 4-0, the best start in the program's history.
Sunday's 7-0 victory over Fairleigh Dickinson gave the team it's second consecutive tournament win, after opening up the season with two wins in the Cyclone Classic last weekend.
Senior forward Candice Wilks was awarded the Offensive MVP for the Arizona Invitational, while freshman defender Kaity Heath was named the Defensive MVP. [Read article]



Volleyball able to win just once on Hawaii road trip
Things could have been worse for the No. 17 Arizona volleyball team during its weekend trip to Hawaii, but they also could have been much better.
The Wildcats salvaged one out of three matches at the Rainbow Wahine Classic, held in Honolulu, Hawaii. Arizona fell to host Hawaii and San Diego on consecutive days after taking the opener from Eastern Washington Friday night.
Sunday's game against No. 13 Hawaii was a nail biter as Arizona came from behind to even the match at four games after trailing 2-0. But the Wildcats failed to pull off the victory, falling to the Rainbow Wahine in the fifth and deciding game (24-30, 31-33, 30-26, 30-26, 11-15). [Read article]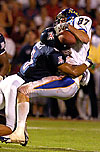 Football analysis: Who knew? Defense the key for Stoops-coached teams
Entering this season, everything pointed to a defensive resurgence under first-year head coach Mike Stoops.
In his final two seasons as defensive coordinator at Oklahoma, Stoops oversaw a unit that allowed 13 or fewer points against 16 of its 28 opponents, helping carry the Sooners to consecutive 12-2 records.
Of course, no one expects Stoops' new team to duplicate such success in 2004, least of all with a patchwork offense and a foreboding schedule. [Read article]




showAds('bigbutton')?>


showAds('mediumbutton')?>

showAds('wildlinks')?>