Tuesday, September 7, 2004


The way politics should work
Webster's says a politician is one who engages in politics for personal or partisan aims. But, do you know what politicians really are? Liars, plain and simple.
There existed a long time ago a popular government of the people, by the people and for the people. Now the government is of the rich, by the rich and for the rich, regardless of the party.
How it is: It's expected that politicians will break campaign promises. [Read article]



U.S. not to blame for global terrorism problems
The events of this past week have left many of us speechless. The gruesome photos of children covered in blood, being carried out of the school in Russia sent shockwaves through most of us, reminding us of the horrors of Sept. 11.
But most of all, the images have left us with questions of how could any group of people, regardless of motives, target innocent school children and what was the cause of these violent acts? [Read article]



Mailbag
RNC protesters not wasting their time
The assertion that Republican National Convention protesters are wasting their time, made by Laura Keslar in her Wednesday Issue of the Week, is completely invalid. I really don't believe that the 200,000 people marching this past Sunday in New York City were expecting immediate regime change or that their actions were going to sway the vote of the average American. [Read article]



On the edge
The best in last week's editorials from college campuses around the nation
Publishers to blame for textbook racket
In search of lower textbook prices, students have found creative ways to avoid shelling out hundreds of dollars.
At their most desperate, students in Brownsville have even gone as far as to purchase books at full price and then drive over to towns across the border, where they get photocopies made for a fraction of the cover price, The Associated Press reported. When they drive back, they return the textbook for a full refund. Copies cost about $13 for a 300-page book that might sell for $50 at the campus bookstore. [Read article]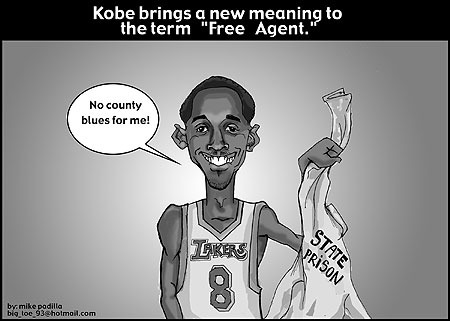 showAds('bigbutton')?>


showAds('mediumbutton')?>

showAds('wildlinks')?>