Tuesday, March 22, 2005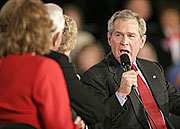 Bush campaign pushes for permanent fix
President Bush brought his 60-city, 60-day campaign to change Social Security yesterday to the 17th stop, the Tucson Convention Center.
Approximately 1,500 people packed TCC to attend the private, invitation-only town hall discussion on Social Security. The crowd, most who received their tickets from local congressional offices, cheered enthusiastically as Bush unveiled a broad plan to use personal accounts to alleviate a future Social Security crisis. [Read article]

·
UA Young Democrat banned from forum
·
CatTran riders lose lot, routes
·
UA South to grow under new design
·
Plants, animals showcased at plant sale
·
Activity fair offers free food, fun to students
·
Gov. vetoes budget, med funds unclear
·
Web site focuses on simplifying tax filing
·
On the spot!
·
Fast facts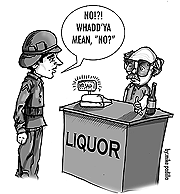 At some point during their journeys back from Mexico, countless spring breakers likely raised a decades-old complaint among young college students: The drinking age in the United States is, well, wack. Not only does a national drinking age of 21 make criminals out of millions of young people, but it promotes dangerous traditions and encourages immoderate drinking habits that could have lifelong ramifications. So, while a group of young people who just spent the better part of a week in a state of drunken debauchery may not have much of anything (including money, or, say, credibility) left, they do have a point. [Read article]

·
Judgement Day
·
Mailbag
Latest Issue: March 10, 2005
The language barriers in the United States speak loudly for those who exist in smaller countries, like Bosnia-Herzegovina.
In his ongoing mission to help bridge language, cultural and social barriers between the United States and Europe, Semezdin Mehmedinovic will share his poems, essays and short stories at the UA later this month.
Born in the northern Bosnian town, Tuzla, in 1960, Mehmedinovic moved to Sarajevo in 1979 to study comparative literature and library sciences at the University of Sarajevo, graduating in 1983. [Read article]

·
Tucson and Campus Calendar
·
Girls gone bored: spring break edition
Music
·
Asobi blends influences
·
DFA79 mourn romance
·
Not your average Jack
·
Tori is back, again
·
CD Reviews: Asobi Seksu, Ryanhood, Doves, The Mars Volta, Iron and Wine
Film
·
Oscar-winning 'Sea Inside' causes waves of emotion
Video Games
·
'Star Fox' lacks challenge
Latest Issue: February 22, 2005

Hookah offers safe and relaxing alternatives
College students are always looking for the newest, hippest and easiest trends to keep their bored little minds occupied. While smoking weed will always be fashionable, it's illegal too. As an alternative, locals, young and old, are getting together to smoke the legal way, with the help of the hookah.
The pastime has become even more popular in Tucson since Roger Smiley and his wife Sarah opened Smiley's Ultimate Hookah Lounge and Coffee last year. [Read article]


showAds('bigbutton')?>




showAds('mediumbutton')?>


showAds('wildlinks')?>