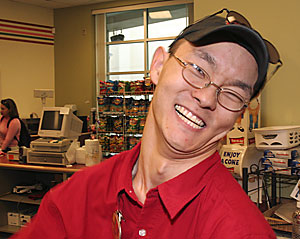 CASSIE TOMLIN/Arizona Daily Wildcat

Jacob Lingofelt, a former U-Mart employee who now works in the Student Union Memorial Center Food Court, recollects his time dealing with the likes of "Eyebrow," "Bug-Eyed Earl" and "Klondike Girl," among others, during his time on the job.

By Kylee Dawson
Arizona Daily Wildcat
Wednesday, March 23, 2005
Print this


With a sense of humor that puts you in stitches - and then the stitches will burst - Jacob Lingofelt has had more than his fair share of bad experiences with UMart customers.

This could have something to do with the fact that Lingofelt, a math sophomore and former U-Mart employee, works full-time.

"They don't pay me to complain, so I have to do it on my own time," Lingofelt said. "I work here 40 hours a week. You laugh, but I'm serious."

Calling himself and his fellow U-Mart comrades "U-Martyrs," Lingofelt worked at the store for two years before he was transferred to work as a cashier in the Student Union Memorial Center food court in January.

Having amassed such a hilarious collection of U-Mart stories, he's more than willing to share about some of the dozens of customers who have annoyed and pissed him off.

"Of the miscellaneous freaks and creeps that come in everyday, these are the crème de la crap," he said. "They all bother me. Some people say, 'I drink too much.' I don't drink enough."

It's all edible, right?

For those who want to purchase nonfood items at the U-Mart with their meal plans, it doesn't take Lingofelt much convincing to bend the rules.

"You can put batteries on your meal plan when you eat a battery in front of me. That's my rule," he said. "If you put chapstick on your meal plan, you have to lick it like an ice cream cone. Otherwise, cash only."

Are you open?

When some U-Mart customers have a hard time accepting that the store has closed, they try desperate means to entice workers into reopening.

"People don't realize that we have lives," Lingofelt said. "If you're going to pound on the door and scream, 'I need Gatorade!' I reserve the right to stand on the inside and laugh at your ass.

"I'm a person. I have a life after UMart. They don't put us in the back closet overnight. I'm not here to serve you after hours."

So that everyone can understand what it is like to be in his shoes, Lingofelt said, "Everyone in the country should be required to work in customer service. "It would be like registering for the draft, ONLY, instead of a dog tag, you get a name tag. Before you get your high school diploma or a real job, get your dog tag or get your name tag."

Ben & Jerry's choice

U-Mart customers with strange buying and eating habits always caught Lingofelt's attention.

"It's amazing how many fat ass sorority chicks with big beer guts come in," he said. "It's amazing they make size 38 ruffle skirts."

Oftentimes, they buy a couple cans of Slim Fast and pints of Cherry Garcia at the U-Mart.

"Maybe they should eliminate one," he said. "Cherry Garcia is not a sensible dinner. But I can't judge. I just roll my eyes. There's just more of her to love."

Eyebrow

Lingofelt can't help but cringe when he sees one of the creepier customers nicknamed "Eyebrow," so nicknamed for his huge unibrow with "not even a hint of a break."

"Some unibrows kinda grow like a widow's peak," Lingofelt said. "Not this one. Straight across."

Referring to the time Eyebrow tried to hit on the teenage daughter of one UMart cashier, Lingofelt said, "I think that's the first time my skin actually crawled."

When Eyebrow asked employees, "Are you going to any cool parties?" Lingofelt thought to respond, "Number one, ew. Number two, no. And number three, yes, but not with you."

Eyebrow said he's 18, but Lingofelt wonders how old he'll be when he acknowledges that he has a unibrow.

"I don't know how old he is, but after looking himself in the mirror.. 6,574 times, that's assuming he's 18 years old and only looks in the mirror once a day, wouldn't you notice that everyone has two eyebrows and you have one?"

Klondike Girl

Lingofelt said some students, especially girls, have no shame when it comes to using profanity so causally.

When a random sorority chick discovered the Klondike bar cooler a while back, Lingofelt said she yelled across the whole store, "Hey Brittany! They have Klondike Bars! Fuck yeah!"

"We need a new F-word because 'fuck' doesn't do it for me anymore," he said.

Bug-Eyed Earl

The bane of Lingofelt's existence is "Bug-eyed Earl," an obsessive-compulsive hypochondriac who continues to plague Lingofelt at his new post by frequenting the On the Deck Deli in the student union.

"Bug-eyed Earl is a germophobe," Lingofelt, said, and was named after a character from Max Cannon's Tucson Weekly comic, "Red Meat," because, apparently, his eyes bug out.

"The way he looks at you, it's like he's trying to burn a hole through your head."

When Bug-eyed Earl purchases a sandwich, it must be an exact weight. If he purchases a soda, he sifts through a stack of Styrofoam cups to get an uncontaminated, all the while contaminating all the others that he touches.
---
Despite the need to vent, Lingofelt said he realized how much his job meant to him when a former supervisor told him, as he sarcastically quotes: "The customers are never an inconvenience to Jacob. Do you know why, Jacob? The customers pay your rent, Jacob. If the customer is an inconvenience to you, Jacob, then you should find another job, Jacob."
That is why Lingofelt said he appreciated all of his customers, no matter how much they've annoyed or harassed him.
"Come in, pay my rent," he said. "I need you to come in here."


Write a Letter to the Editor