Thursday, March 24, 2005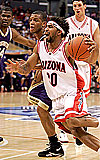 Men's Hoops: Cats take aim at Cowboys
Men's NCAA Tournament • Sweet 16 • Chicago Regional
Analysts and fans alike are saying that tonight's matchup between No. 3 seed Arizona and No. 2 seed Oklahoma State easily could have been for the national championship.
Nevertheless, the Wildcats (29-6, 15-3 Pacific 10 Conference) and the Cowboys (26-6, 11-5 Big 12 Conference) meet up in the regional semifinal in Chicago at 8:15 p.m. The game will be televised on CBS. [Read article]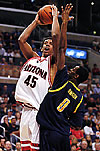 Men's Hoops: History on side of '05 seniors as UA makes last push for St. Louis
One-hundred one, seven and two.
These numbers are the total wins, NCAA Tournament wins and Pacific 10 Conference titles the Arizona basketball team has amassed in Channing Frye and Salim Stoudamire's four years with the program.
However, unless the dynamic senior duo can add two more to the first two columns in this weekend's Chicago Regional, zero will be another figure Frye and Stoudamire will be remembered for - as in the amount of trips they have made to the Final Four. [Read article]



Opponent Analysis: Cowboys rely on toughness, experience
The last time Arizona and Oklahoma State met, the Cowboys had a big man named Big Country Reeves on their team. This year, the Cowboys have less of a country and more of a collection of states.
Oklahoma State features four senior starters with Final Four experience, three of who average double figures in points.
Oklahoma State's run to the Final Four last year gives it more tournament experience than the Wildcats, but Arizona head coach Lute Olson thinks the edge ends there. [Read article]



Local joints offer big fun for big games
Are you one of the many Arizona basketball fans wanting to watch tonight's Sweet 16 NCAA Tournament game against Oklahoma State, but couldn't afford the airfare to Chicago or price of admission at Allstate Arena?
Cheer up. Tucson has its share of establishments to make the tournament viewing experience the next best thing to being in the Windy City.
Bars and restaurants on and around campus offer everything from drink specials to multiple giant televisions to activities. [Read article]




Baseball opens Pac-10 slate
Cats, Huskies trade court for diamond
While their schools' basketball teams battle in separate Sweet 16 games, No. 13 Arizona and Washington baseball open Pacific 10 Conference play tonight at 7 p.m. at Sancet Stadium.
After struggling through the latter part of the non-conference schedule, going 7-9 after a 9-0 start, coach Andy Lopez said it's important for Arizona (16-9) to get off to a good start with only 24 games on the conference slate. [Read article]



Men's swim, dive heads to NCAAs
The 2004-2005 swimming and diving season comes to an end as the men's squad competes Thursday through Saturday in the 2005 NCAA Championships in Minneapolis.
The No. 8 men's team carries a 6-4 record, 2-3 in the Pacific 10 Conference. The Wildcats took fourth place with 450 points in the 2005 Pac-10 Championships in Long Beach, Calif., March 2-5.
The tournament begins each day at noon with preliminary action. The finals will be held at 7 each night. [Read article]



Track's Arnold prepares for combined events
The Arizona track and field teams play host to a number of different athletes at the Wildcat Combined Events held today at 11 a.m. at Drachman Stadium, but the Wildcats will be represented by only one member: decathlete Jake Arnold.
The sophomore, who competed in the NCAA Indoor National Championships March 11-12, will have some tough competition during the two-day event, including Wisconsin's Ben Roland, who also competed in the NCAAs. [Read article]




showAds('bigbutton')?>






showAds('mediumbutton')?>

showAds('wildlinks')?>