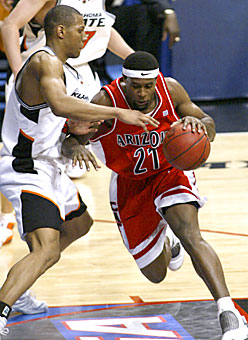 Kevin b. Klaus/Arizona Daily Wildcat

Junior Hassan Adams drives to the basket during Arizona's 79-78 win over Oklahoma State. Adams will decide in the coming weeks whether to declare for the NBA draft.

By Tom Knauer
Arizona Daily Wildcat
Tuesday, March 29, 2005
Print this


Adams' return key to success in '06

The image aims to linger with Arizona men's basketball fans: freshman guard Jawann McClellan, sitting on the court in tears, his jersey hung over his face like a child escaping a thunderstorm from beneath a bed sheet.

There was nowhere to hide for McClellan and the rest of the Wildcats. The buzzer sounded in Allstate Arena, and Arizona's 15-point lead in the last four minutes of regulation had dissipated under a stupefying barrage of Illinois 3-pointers and poor execution on the other end of the court.

Illini 90, a once-sure-fire trip to St. Louis, gone.

After the players emerged from their locker room, McClellan made a promise to the attending media.

"I'm going to be a leader of this team," he said. "I'm going to carry this team all the way."

Somewhere watching all this unfold was junior forward Hassan Adams. Adams, whose play in the NCAA Tournament paced the Wildcats in all four games, took the inbound pass from McClellan on the last possession of overtime and dribbled as the clock ticked down.

Five seconds, four, three.

Adams attempted a drive to his left and then stopped and launched up a long jumper. The ball bounced off the backboard, and the Rosemont, Ill., crowd, an animated Florida orange grove, knew its team had dodged a desert bullet.

After the game, Adams, a rumored candidate for the NBA draft in April, made no promises as to his role in Tucson or elsewhere next fall.

"I loved playing with these guys, these coaches," he said.

Given his shocking averages in the tournament - 16.5 points and 7.3 rebounds per game on 54 percent shooting - no one would be surprised if Adams decides his best shot at a national championship ended with the final buzzer Saturday and that his 43-inch vertical and other amazing talents should try their luck in a professional uniform.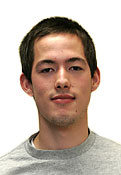 Tom Knauer
Assistant Sports Editor
The thing is, Adams isn't ready.
Some critics made the same comments about former Wildcat Andre Iguodala, who had his first NBA triple-double last week, and for the most part they have been dunked like so many of his baskets off fast breaks.
But for all his heroics against Oklahoma State (19 points, 10 rebounds) and the Illini (21 points, eight rebounds), Adams needs to spend next season as a Wildcat, to help not only his own game, which dropped in the regular season, but also a roster set to take major hits from the departures of seniors Channing Frye and Salim Stoudamire.
Without Adams, McClellan must choose between maturing at his natural position of shooting guard or leaving a gaping hole at the wing.
Junior guard Chris Rodgers probably steps into the starting lineup for Stoudamire if McClellan moves to forward. But save for select performances earlier in the season, Rodgers has shown little to say his offense can hold a candle to his tenacious D.
Losing Frye, assuming sophomore forward Ivan Radenovic stays, means someone from the group of junior Isaiah Fox, sophomore Kirk Walters and freshman Mohammed Tangara (.2 points, .2 rebounds, .476 field-goal percentage combined in 2005) needs to step up next season to give the team at least a passable frontcourt to support the Wildcats' burgeoning group of offensive stars.
Arizona welcomes another promising recruiting class next fall, headed by four-star forward prospects Fendi Onobun and Marcus Williams and five-star point guard J.P. Prince.
Such depth, and the underrated defense that followed, keyed the Wildcats' charge through the tournament and helps soften forecasts for next season should Adams choose to bolt.
Regardless, some things need to change.
Sophomore guard Mustafa Shakur clearly regressed in his second year, and he led the team in turnovers (five) against Illinois. For all his reputed talent, he has yet to average more than five assists per game in a season.
His questionable offensive skills (8.1 points, 42 percent shooting), if left unabated over the summer, could lead to an embarrassing battle with Prince (6-foot-7, 203 pounds), a long, able passer and defender in the mold of his cousin, Tayshaun, of the Detroit Pistons.
By returning, Adams defuses most of the team's impending conflicts. His athleticism compensates for a plodding post presence, and his leadership takes enough pressure off Rodgers, McClellan and Shakur to allow them the space they need to fulfill their potential.
And, as proved in his go-to attempt gone astray Saturday, even Adams needs room to grow.


Write a Letter to the Editor