Thursday, April 7. 2005


Softball: Hollowell fans 15 Devils
TEMPE - Making her sixth straight start for the No. 2 Arizona softball team last night at Farrington Stadium, Alicia Hollowell showed she's only heating up.
The junior allowed two hits and struck out 15 in seven innings, as the Wildcats (29-3, 3-1 Pacific 10 Conference) defeated ASU 1-0 in front of a season-high 1,094.
The Sun Devils (26-10, 1-3) couldn't find an answer to Hollowell (20-2), who fanned 11 of the last 15 ASU batters only three days after giving up a season-high five runs to No. 3 California. [Read article]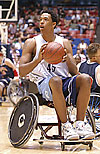 Wildcats, Wildchairs play tonight
The UA men's and women's basketball teams will be back on the court tonight at 7 in McKale Center, but this time they will be sitting down.
The 22nd annual Lame for a Game charity event features the Arizona wheelchair basketball team, the Wildchairs, against the UA Wildcats.
"It's a great thing when you can do something for other people," forward Ivan Radenovic said.
The festivities, which include autograph signing and giveaways serve to promote disability awareness and the Disability Resource Center. [Read article]




Olson critical of Fox, wants more exposure
Arizona head basketball coach Lute Olson has often spoken about his distaste for the Pacific 10 Conference's lack of national exposure.
He was more poignant Tuesday, criticizing Fox Sports for a number of things, including Sunday night nationally televised ACC games on Fox Sports Net.
"Frankly, Fox has put more advertising into the ACC Sunday night than they did for the Pac-10 on Thursday and Saturday," Olson said. [Read article]




Baseball Notes: 'Cou-berger' new 3rd starter
The Arizona baseball team finally found a solution for its third spot in the pitching rotation Sunday, which had led to three straight series finale losses.
Head coach Andy Lopez simply calls it Cou-Berger, a combination of freshman left-hander David Coulon starting the game and his lefty classmate Eric Berger finishing it, which he plans to employ Sunday at Washington State (16-17, 0-6 Pacific 10 Conference). [Read article]



Cycling team blows past competition
For the second weekend in a row, the Arizona men's cycling team left the competition in the dust, winning the Southwest Collegiate Cycling Conference championship.
Despite only four representatives riding for the Wildcats, they were able to dominate the field, beating teams from ASU and NAU.
In the criterium race, sophomore Mike Dietrich and graduate students Kyle Colavito and David Glick placed first, second and third, respectively. Sophomore Ryan Delgado finished seventh. [Read article]



Track Notes: Men's team ranked third in latest poll
The Arizona men's team opened the outdoor track and field season with a sense of optimism, something that was reassured by Trackwire.com Tuesday. The men are ranked third behind Arkansas and Florida in the first poll of the outdoor season provided by Trackwire 25. In-state rival ASU sits in fourth behind the Wildcats.
"On the men's side, the strongest aspect is our overall team strength," Arizona head coach Fred Harvey said. "I think our overall team strength, coupled with our flexibility, is huge (for team-score events)." [Read article]




showAds('bigbutton')?>






showAds('mediumbutton')?>

showAds('wildlinks')?>