Arizona Daily Wildcat
Thursday, April 7, 2005
Print this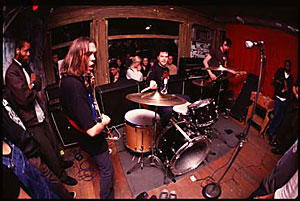 PHOTO COURTESY OF THE FUCKING CHAMPS
The Fucking Champs - Saturday, 9 p.m., Hotel Congress
Thursday
MFA exhibition - MFA students present their thesis projects. UA Museum of Art. 2-3 p.m. 621-7567
Spring Fling - First night of corn dog fun. Rillito Park. River Road and North First Avenue. 4p.m.-midnight. 621-5610
Lecture - UCLA researcher Shifra M. Goldman presents "Globalization, Privatization and the Art Market." School of Art, Room 312. 6:30 p.m. 626-4672
"The Phantom of the Opera" - Disfigurement is so romantic. Gallagher Theater, Student Union Memorial Center 7 p.m. and 10 p.m. Call for prices. Through Sunday
UA Opera Theatre presents Menotti's "The Telephone" and "The Medium." Stevie Eller Dance Theater. 7:30 p.m. $15 general/$13 employees/$10 students. 621-1162/621-2998
---
Friday
International Arts Society Presents: "Barry Lyndon," Stanley Kubrick's 1975 adaptation of a Thackeray novel. Manuel T. Pacheco Integrated Learning Center, Room 120. 7:30 p.m. 621-3527
Arizona Repertory Theatre Preview: "The Rocky Horror Picture Show." UA Laboratory Theatre. 7:30 p.m. $20. 621-1162
The Knockout Pills - Punk rock from T-town. City Limits, 6350 E. Tanque Verde Road. 8 p.m. 733-6262
REBEL - Baroque music ensemble presents: "An Angel's Voice: The Legend of Farenelli." Featuring cantatas and arias by Handel, Vivaldi and others. Centennial Hall. 8 p.m. $10-$30. 622-3341
Sweat Band - Join this band who puts the izzle in sizzle for their record release party. With George Squire Orchestra. Hotel Congress, 311 E. Congress St. $3. 9 p.m. 622-8848
Monolog Cabin - Please see Kylee Dawson's article on this monolog troupe. Saturday night also. Hotel Congress, 311 E. Congress St. 7 p.m. $5 622-8848
---
Saturday
Cast of "Rocky Horror" Tour - Cast members from "The Rocky Horror Picture Show" will perform numbers from the Arizona Repertory Theatre production. I.B.T.'s. 616 N. Fourth Ave., 8:30 p.m. Colors Food and Spirits, 5305 E. Speedway Blvd., 9:30 p.m. Ain't Nobody's Bizness, 2900 E. Broadway Blvd., #118. 11 p.m.
UApresents - Standup comedian George Carlin. Centennial Hall. $27.50-$37.50. 8 p.m. 621-3341
Tucson Poetry Festival 2005 - Poets Van Brock, Anita Endrezze, Gary Mex Glazner and Sam Hamill will read from their works. Museum of Contemporary Art, 191 E. Toole Ave. $7 advance/$10 door. 9 a.m. 620-2045
Monster Truck Racing - Featuring a demolition derby and motorcycle racing. Pretty much all of the coolest kids at UA are going. Tucson Rodeo Grounds, South Sixth Avenue. $10/$13. 5 p.m. gates/7 p.m. show. 712-RAGE
The Fucking Champs - This San Francisco metal band's show is going to be fucking great! Fuck! With Parchman Farm and The Mass. Hotel Congress, 311 E. Congress St. 9 p.m. $5 advance/$7 door. 622-8848
Sunday
Elie Wiesel - "Night" author and Holocaust survivor will deliver the University of Arizona Presidential Lecture. Centennial Hasll. 7:30 p.m. $18-$36 general admission, $10 students. 621-3341
Al Perry - Local favorite rawks Plush just for fun, 340E. Sixth St. 8:30 p.m. 798-1298
---
Monday
"On Our Own Time" - UA staff and employees present their paintings, photography, mixed media and sculptures. Student Union Memorial Center, Student Union Gallery. Through April 21. 626-2738
Michel Deguy - French poet and philosopher will read from his most recent book "Recumbents." Aerospace and Mechanical Engineering building, Room S202. 7 p.m. 626-3765
The Killers - Las Vegas band that's all into eyeliner and being hot comes to Phoenix. With Tegan and Sara. Marquee Theatre, 730 N. Mill Ave., Tempe. $36-$78.50. 8 p.m. 480-829-0707
---
Tuesday
Screening of "The Sea Inside" with following panel discussion, "The Slippery Slope of Assisted Suicide." Gallagher Theater, Student Union Memorial Center. 2 p.m. 621-3148
Tuesday Twilight Cabaret - Featuring the music of BASSCK, with food and drink specials. Hotel Congress, 311 E. Congress St. 6 p.m. $5. 622-8848
The Secret Show - Long form improv comedy group who will make you laugh and clap. With No Bunny and Physics Fun Bus. Hotel Congress, 311 E. Congress St. $3. 9 p.m. 622-8848
---
Wednesday
German Studies' Albrecht Classen presents "The History of Marriage from the Early Middle Ages to the Present." Maybe it will help you figure out why your dad left. Noon, Gallagher Theater, Student Union Memorial Center.
Crooked Fingers - Please see Michael Petitti's article. With Dolorean and The Solace Brothers. Hotel Congress, 311 E. Congress St. $7. 9 p.m. 622-8848


Write a Letter to the Editor