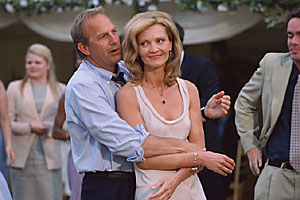 PHOTO COURTESY OF NEW LINE CINEMA

"The Upside of Anger"-Kevin Costner alongside Joan Allen in "The Upside of Anger," yet another in Costner's long line of baseball movies. Allen's portrayal of an alcoholic divorcée is a fitting counterpoint to Costner's characteristically blank style.

By Celeste Meiffren
Arizona Daily Wildcat
Thursday, April 7, 2005
Print this


"The Upside of Anger" is unlike any movie out right now. Actually, the entire movie feels genuinely one of a kind.

Writer/director Mike Binder has made a film that appears to be made just for grownups.

The charm, however, is that it is accessible to everyone. Its mature concepts, slow pace and deceivingly small character arcs make it seem like a slice of life.

The story is that Terry (Joan Allen), mother of four daughters Andy, Popeye, Emily and Hadley (Erika Christensen, Evan Rachel Wood, Keri Russell and Alicia Witt, respectively), has recently been abandoned by her husband. Without warning he is gone, leaving her to take care of their daughters alone.

The Upside of Anger

7 out of 10
New Line Cinema
Rated: R
121 min.
Now Playing
She becomes a bitter and sad alcoholic. A once-vibrant woman is left in pieces, unable to cope with the abandonment.
Terry's neighbor Denny (Kevin Costner), a former baseball star who has always had an eye for Terry, begins to come around. They become drinking buddies, which eventually leads them to be buddies of another nature.
Nudge nudge.
The movie progresses through small events and endless tragedy, until the final climax when the whole movie snaps into place.
Through this one final revelation every character is made deeper, each relationship is made significant. If the film had a different ending, the rating would be much lower. The ending makes the film worth watching.
There is a huge emphasis on the performances in this film. Each young actress holds her weight and each is quite convincing. But the performances that are key to the film are those of Kevin Costner and Joan Allen.
This is the fourth movie in which Kevin Costner plays a baseball player. Here's a thought on that: Maybe he should have become a baseball player, because Lord knows he's not a very good actor. And the only movies that he's actually good in are the ones in which he plays baseball players. His performance in "The Upside of Anger" only supports my claim. Good job, champ.
Joan Allen is one of America's finest actresses and it is nice to see her back on the screen. Her portrayal of Terry borders on perfection. Terry is not a likeable character at all, yet you cannot help but feel limitless compassion for her. The consistency of her anguish has a lot to do with the film's success.
The only failings of "The Upside of Anger" are its inability to move at a steady pace coupled with an unsteady ebb and flow of character arcs. It feels slightly choppy at times, but not in a way that is overly distracting.
Ultimately, "The Upside of Anger" is a film worth seeing. The script and performances alone make it one of the most pleasant movie-going experiences as of late. And if that's not reason enough to go out and see it, then I just don't know what is.


Write a Letter to the Editor