Tuesday, April 19, 2005

UA trying to ease class shortage
In order to register for fall classes, many students went through annoying procedures or were denied classes because of availability, but a new board has formed to tackle the class shortage issue that mostly stems from a lack of money.
Budget cuts and a growing demand for certain majors have left colleges unable to provide enough classes, said Jerrold Hogle, vice provost for instruction, but he said the university is working to get a handle on the problem. [Read article]




Feminists donate $9,000 to OASIS
After successful sales from the February production of "The Vagina Monologues" and related memorabilia, the UA Network of Feminist Student Activists presented a $9,000 check last week to the OASIS Program for sexual assault and Relationship violence, which assists Sexual Assault and Relationship Violence victims.
The activists also donated $1,000 to the Iraqi Women's Organization and 1,149 tampons to the Brewster Center Domestic Violence Services, according to a press release by the NFSA. [Read article]



Opera Web browser free to UA
Students and members of the university can get the newest version of the Norwegian Opera Web browser for free today.
Because of its small size and security components, Opera is the safest and fastest browser available on the market, said Berit Hanson, public relations specialist at Opera software.
The new 8.0 version of Opera is a combination of everything the Norwegian company learned in the 10 years since it was founded, Hanson said. [Read article]




Friends laugh, raise money in honor of former UA athlete
A full crowd came out last night to a local comedy club to honor a former UA athlete who died two months ago in a car accident.
Brian Corrigan, a 36-year-old wheelchair athlete and former UA Wildchair who died Feb. 2, was honored at last night's benefit show at Laffs Comedy Club, 2900 E. Broadway Blvd., where he had recently begun his career performing "sit-down comedy."
Corrigan was driving home at 2:30 a.m. after leaving the comedy club when he was hit and killed by a driver suspected of being drunk, who ran a red light. [Read article]



Best in the West come to UA for step show
Low Down
What: Sixth annual Alpha Phi Alpha Ice Train Classic Step Show
When: Saturday, 2 p.m.
Where: Centennial Hall, 1020 E. University Blvd.
Tickets: $12 in advance, $17 day of show

The best step teams from the West Coast will descend upon Tucson Saturday for the annual Ice Train Classic Step Show, hosted by the Alpha Phi Alpha fraternity.

What started as a Homecoming event six years ago has grown into one of the largest step shows in the West, said Jomar Jenkins, president of the Zeta Theta chapter. [Read article]




UA student places 8th in rock, paper, scissors tournament
Rock, paper, scissors, shoot!
Zach Washut, a regional development and economics junior, fought his way into the Elite Eight of the first ever National Collegiate Rock Paper Scissors Invitational Tournament in South Beach, Fla., Friday and Saturday.
Washut represented the UA in the event, which was officially sanctioned by the World Rock, Paper, Scissors Society.
Washut said he competed with 100 athletes from colleges across the nation for a $5,000 grand prize and a guaranteed slot in the 2005 World Rock, Paper, Scissors Championship. [Read article]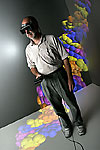 Cutting-edge visualization technology now at UA
Researchers and students on the UA campus have access to a cutting-edge 3-D visualization technology that will give participants the ability to create, explore and manipulate an environment of their choosing.
Scientific visualization, similar to AZ-Live, has been conducted on campus for the last 15 years, but AZ-Live is the first of its kind to hit campus and has garnered little attention from people wishing to use it. [Read article]



Guns in bars decision up to governor
PHOENIX - It is now up to Gov. Janet Napolitano to decide whether guns should be allowed in bars, as the state Legislature has forwarded a bill with House and Senate support to her desk for the final say.
The Arizona Senate passed the bill yesterday, which would allow gun owners to bring their firearms into bars as long as they didn't drink at the same time.
The bill was passed by the Senate and the House of Representatives after much debate and a few amendments. If it becomes law, it would let bar owners post a sign at each entrance if they did not want to allow guns in their establishment. [Read article]



Sigma Alpha Epsilon party cleared by police, MIPS
A jungle-themed bash at the Sigma Alpha Epsilon fraternity house, 1509 E. Second St., Saturday afternoon ended with six police officers issuing eight underage drinking citations and a red tag, reports stated.
Two officers arrived on the scene after receiving several noise complaints, and found an estimated 400 to 500 people were inside the fraternity and about 35 to 40 people where outside, reports stated. [Read article]



On the spot!
Sophomore loves R&B, cursing in French and nachos
Wildcat: My name is Kylee and you're on the spot. Have you ever seen "Inside the Actor's Studio?"
Gilbert: No, I haven't, actually.
Wildcat: You've never seen it?
Gilbert: No. I don't have much time for, well, just about anything, really. My homework keeps me busy, locked in a room.
Wildcat: OK, then, that's good 'cause you can't tell I stole these questions. The questions I'm about to ask you are from James Lipton's "Inside the Actor's Studio," but he stole them from some guy named Bernard Pivot. [Read article]



Fast facts
Things you always never wanted to know
It has been estimated that the eye muscles move more than 100,000 times a day. It is believed that many of these rapid eye movements take place during sleep.
Frank Simon lifted a 136-pound motorcycle above his head and balanced it on his teeth for 10 seconds on the set of "El Show de los Records" in Madrid, Spain, on Oct. 4, 2001.
The International Committee of the Red Cross, founded in Geneva, Switzerland, in 1893, has received three Nobel Peace Prizes, in 1917, 1944 and 1963. The last award was shared with the League of the Red Cross Societies. [Read article]




showAds('bigbutton')?>






showAds('mediumbutton')?>

showAds('wildlinks')?>