Tuesday, April 19, 2005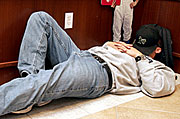 In order to register for fall classes, many students went through annoying procedures or were denied classes because of availability, but a new board has formed to tackle the class shortage issue that mostly stems from a lack of money.
Budget cuts and a growing demand for certain majors have left colleges unable to provide enough classes, said Jerrold Hogle, vice provost for instruction, but he said the university is working to get a handle on the problem. [Read article]

·
Feminists donate $9,000 to OASIS
·
Opera Web browser free to UA
·
Friends laugh, raise money in honor of former UA athlete
·
Best in the West come to UA for step show
·
UA student places 8th in rock, paper, scissors tournament
·
Cutting-edge visualization technology now at UA
·
Guns in bars decision up to governor
·
Sigma Alpha Epsilon party cleared by police, MIPS
·
On the spot!
·
Fast facts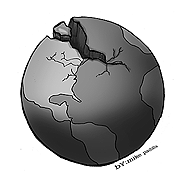 About an hour's drive on Interstate 90 south of Tucson, the relentless Arizona sun heats up the road so that it's almost possible to hear the tires stretching as the rubber noisily grips the pavement. Near there, like a mirage ensconced among miles of baking desert sand, cacti and lifeless tumbleweeds, suddenly appears a beautiful, emerald-framed oasis.

The San Pedro River, which flows north from the mountains of Sonora, Mexico to the Gila River in Southern Arizona, is one of the most biologically diverse areas in the world. Outlined by a row of lush, green cottonwood trees, the area, known as a "riparian corridor," is home to hundreds of species of birds, amphibians and mammals. [Read article]

·
View Points
·
Mailbag
Latest Issue: April 14, 2005
Berlin. Venice. Cannes. Tucson. Film Festivals are not just for ritzy European cities anymore. And for the 14th year, Arizonans - Tucsonans in particular - are proving that with the Arizona International Film Festival.
The AIFF is a 10-day long celebration of local and independent film, and it starts tonight. It is a great event for Tucson because it showcases national and international talent. But it is especially exciting because it exposes talent that has come out of the UA. [Read article]

·
Tucson and Campus Calendar
Poetry
·
Sophokles and Hendrix: together at last
·
Slamming words into action at Poetry Crawl
Theatre
·
'Cannibal! The Musical' comes to stage
Music
·
Rx Bandits make first trip to Congress
·
CD Reviews: Hot Hot Heat, The Bravery, The Kaiser Chiefs, Will Smith
Film
·
'Fever Pitch' falls a bit outside the park
Food
·
Chopped good, but pricey
Literature
·
Learn all about presidents' murders in 'Assassination Vacation'
Art
·
Dancers, jugglers, poets highlight multicultural show
·
Calexico join Muniz
Latest Issue: April 12, 2005

Andrea Hashim dreamed of becoming Miss America since she was a little girl, and she has just taken one step closer to making that dream a reality.
Twenty-two-year-old Hashim, a first-year dance graduate student, beat out nine competitors to be crowned Miss Tucson Valley April 2 and is gearing up for the Miss Arizona pageant in June. Miss Arizona goes on to compete for Miss America in Atlantic City. [Read article]


·
UA growth chambers visit Mars, South Pole

require('/home/webby/html/papers/98/polls/current.php')?>

showAds('bigbutton')?>






showAds('mediumbutton')?>


showAds('wildlinks')?>