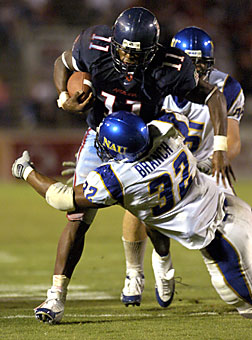 CHRIS CODUTO/Arizona Daily Wildcat

UA junior tailback Mike Bell (11) battles for some of his 118 yards rushing during the Wildcats' season-opening victory over Northern Arizona last weekend at Arizona Stadium.

By Brett Fera
Arizona Daily Wildcat
Friday, September 10, 2004
Print this


UA hopes to spoil Utah's early run

Though the revamped Arizona football team was a heavy favorite in its season opener against Division I-AA opponent Northern Arizona University last week, the Wildcats are certain to be huge underdogs when they take on No. 17 Utah tomorrow night at Arizona Stadium.

"They present a challenge all the way across the board," UA head coach Mike Stoops said. "They're every bit deserving of that ranking, if not higher."

Arizona walked away with a 23-17 victory the last time the teams met, in a September 2002 game at Arizona Stadium. Trailing by just one score as time wound down, Utah appeared to complete a touchdown pass in the game's waning minutes, only to have the catch nullified when the back judge called the receiver out of bounds.

But this year's Utah team is nothing like the 2002 version. Led by a massive defensive line and a superstar quarterback in the making, the defending Mountain West Conference champions not only have hopes of back-to-back conference titles, but are also considered to have a legitimate shot of cracking the BCS picture.

"They're in your face and you've got to beat coverage and protect the quarterback," Stoops said of Utah's defensive front. "They're very physical up front. They're like most of the Pac-10 teams."
Arizona Wildcats

vs.

Utah Utes
Saturday, 7 p.m.
Radio: KCUB 1290 AM
TV: FSN-Arizona

---
Arizona Stadium
Led by the freshman cornerback duo of Antoine Cason and Wilrey Fontenot and anchored by senior free safety Darrell Brooks, the Wildcats held 2003 Big Sky Conference Offensive Player of the Year Jason Murrietta of NAU to just 176 yards in the air. Cason, Fontenot and Brooks each registered an
interception as well.
The Wildcat defense will once again be faced with trying to slow down a marquee quarterback.
Utah junior quarterback Alex Smith not only provides a threat for throwing the long ball, but has already shown his ability to improvise and pick up yards on the ground.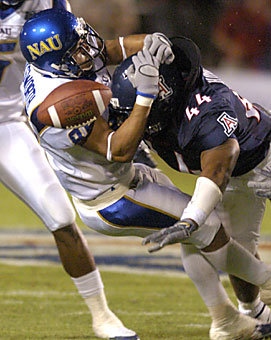 CHRIS CODUTO/Arizona Daily Wildcat
UA senior linebacker Patrick Howard breaks up a pass during Arizona's 18-point win over NAU last weekend. Howard finished the game with seven tackles.
"I like the way he plays, the way he manages the game, the way he finds receivers, the way he scrambles - he does everything well," Stoops said of Smith.
Smith completed 21 of 29 passes for 359 yards and three touchdowns during the Utes' knockout of Texas A&M last week. He also ran for 76 yards on 13 carries, scoring twice.
Stoops added that he and his staff were pleased with the overall effort and output of the UA team, but that a few changes are imminent if the Wildcats are to pull off the upset.
Arizona relied heavily on junior tailback Mike Bell during its 21-3 win over NAU last week, and Stoops still plans for Bell, who carried the ball a career-high 31 times for 118 yards and two touchdowns, to be the go-to guy when action gets underway at 7 p.m. at Arizona Stadium.
Stoops said that he and offensive coordinator Mike Canales might have to scale back Bell's role slightly if the Wildcats want to keep their star healthy through 11 games, but added that he's still the team's first option.
Luckily for Stoops, UA quarterback Kris Heavner proved that Bell doesn't have to go it alone.
Heavner's offseason preparation and calm demeanor allowed the sophomore signal-caller to narrowly miss the UA single-game record for completion percentage.
Heavner completed 18 of 23 passes for 171 yards and a touchdown, managing to finish without an interception for the first time in his young career.
"I thought he found the open guy and worked the ball downfield nicely," Stoops said. "He didn't force the ball all game."


Write a Letter to the Editor