Friday, September 10, 2004


Women, criminals in disguise
Women: I love them, but they must be stopped. Men are no doubt considered the physically stronger sex. However, when it comes to the male gender being seduced, we fall faster than a drunk Oompa Loompa to an angry Mike Tyson.
Beautiful women are the Achilles heel of most men, and when one walks by we cannot help to look twice or bite our fist. My crusade in this editorial is to call for all men to be stronger against women, no matter how low-cut their shirts are. [Read article]



Bring on the noise
Baseball may be the national pastime, but it's in football for which Americans display a level of fervor and spectacle that no other sport can claim - not even rhythmic gymnastics.
Like in the time of the caesars, modern day citizens of this American empire have a hunger to cram themselves into a massive concrete stadium to witness displays of organized brutality. Though we can't legally or ethically indulge in the blood sports of imperial Rome (the practice of feeding Christians to lions may not appeal to everyone), the obvious alternative is football. [Read article]



Mailbag
Students miss 'the whole banana' thanks to admins
As a first-generation college graduate-to-be, I want to express my rage at the total lack of consideration from the administration toward the student body shown by the unilateral decision to cancel this December's university-wide commencement ceremony. This decision was made during the summer, when the students were away and were not given a chance to express their opinion at this matter, which affects us directly. It is the closest thing I've seen to a dictatorship. It almost seems like it was done totally under the table and in a hurried manner in order to avoid conflicts and debate with us, the life of this school. [Read article]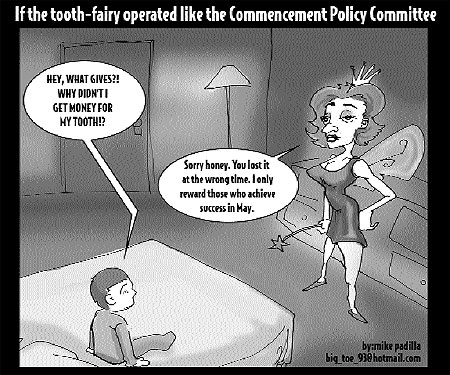 showAds('bigbutton')?>




showAds('mediumbutton')?>

showAds('wildlinks')?>