Monday, April 25, 2005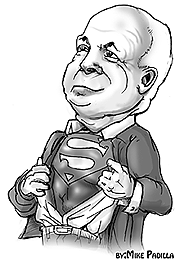 The conservative faithful just don't know what to do with Sen. John McCain. Just when they think he's become a "real" Republican again, he turns on the president. And just when they think he's gone to the dark side, he comes through for the GOP when no one else can.

This past week showcased classic McCain. Early in the week, most of the political talk was about the pending battle between Senate Democrats and Republicans over judicial nominations. The Republicans are getting closer to using the "nuclear option" of barring filibusters, which the Democrats, of course, say is outrageous. All the votes involved are expected to be close, so when McCain announced he'd vote with the Democrats to keep the filibuster, Republican leaders were fuming. [Read article]

·
On the edge
·
Mailbag
Latest Issue: April 21, 2005
Calling Crispin Glover's directorial debut "What is It?" disturbing is a start.
Calling it intelligent and ultimately thought provoking is the next step.
After that, the reactions could range from "absurd" to "obscene" or "absurdly obscene." Or "obscenely absurd," depending on the kind of films you like.
Glover - whose first big role was a teenaged George McFly in "Back to the Future" and later starred in features like "Willard" and "Bartelby" - will be in town starting tomorrow to support the weeklong run of his directorial debut "What is it?" at the Loft Cinema. [Read article]

·
Tucson and Campus Calendar
Campus
·
UA Steel uses Trinidad experience for performances
·
A day in the life of a wasteful school
Tucson
·
Gallagher smashes into Tucson
Film
·
'Garcia Girls' is impressive
·
Few scares, clichés aplenty in "Amityville"
Music
·
Magnolia Electric Co. are a travelin' band
·
Alaska! guitarist doesn't like interviews
·
CD Reviews: The Sights, The OC Mix 4, Magnolia Electric Co.
Literature
·
'Gods in Alabama' misses its potential
Latest Issue: April 12, 2005

Andrea Hashim dreamed of becoming Miss America since she was a little girl, and she has just taken one step closer to making that dream a reality.
Twenty-two-year-old Hashim, a first-year dance graduate student, beat out nine competitors to be crowned Miss Tucson Valley April 2 and is gearing up for the Miss Arizona pageant in June. Miss Arizona goes on to compete for Miss America in Atlantic City. [Read article]


·
UA growth chambers visit Mars, South Pole

require('/home/webby/html/papers/98/polls/current.php')?>

showAds('bigbutton')?>






showAds('mediumbutton')?>


showAds('wildlinks')?>