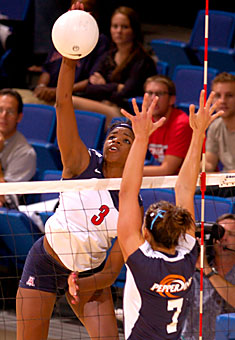 CHRIS CODUTO/Arizona Daily Wildcat

UA junior Jennifer Abernathy spikes the ball against No. 9 Pepperdine Friday. Abernathy was named the Wildcat Classic's Most Valuable Player.

By Lindsey Frazier
Arizona Daily Wildcat
Monday, September 13, 2004
Print this


Facing two of the nation's top teams with a less-than-healthy squad wasn't about to stop the Arizona volleyball team this weekend, as the Wildcats walked away victorious in all three matches against Nicholls State, No. 9 Pepperdine and No. 18 Louisville to win the Four Points University Wildcat Classic.

Junior outside hitter Jennifer Abernathy, sophomore outside hitter Meghan Cumpston and sophomore setter Stephanie Butkus were each named to the all-tournament team. Abernathy was named the tournament's Most Valuable Player after averaging five kills, 2.5 digs, 0.3 assists, 0.2 service aces and 0.2 blocks throughout the weekend.

"The good news is that if Kim (Glass) can't come back, I still feel like we're going to be very competitive in the conference," said UA head coach Dave Rubio of the shoulder injury that sidelined the team's All-American outside hitter just as the season got underway. "The unknown that is now known is Meghan Cumpston. Again, she is the one that played great when it was tight, had some great swings when it was tight and I couldn't be more pleased with how she is developing."

"Last year, I didn't get much playing time," Cumpston said "The coaches were really working with me on being intense and competing more. My mental habits are getting a lot better."

On Saturday, the Wildcats (5-2) defeated the Cardinals in four games (30-20, 26-30, 30-28, 30-25), handing Louisville (5-1) its first loss of the season.

UA Volleyball

Wildcat Classic Champions
Friday - Saturday, McKale Center
defeated Nicholls State, #9 Pepperdine, #18 Louisville
Abernathy: tournament MVP
Cumpston/Butkus: first-team all-tourney

Arizona combined for a hitting percentage of .241 and was guided by Cumpston, who had a career-high 23 kills in addition to 10 digs. Abernathy contributed 19 kills and 12 digs, while senior defensive specialist Kelli Mulvany earned a match-high 20 digs and junior outside hitter Bre Ladd produced a match-high five blocks. Setter Butkus had 54 assists, 10 digs and four blocks.

"The thing I am excited most about is that we competed really well," Rubio said. "We never folded our tent and hoped (Louisville) would make mistakes."

"(This tournament) was huge," Mulvany said. "This has just been an awesome week for us. It shows that we came along from Hawaii. We can be this great team and play hard."

Arizona proved to be too much for Pepperdine on Friday evening, as the Wildcats won in three games (30-23, 30-24, 30-25). Prior to this tournament, the Waves were undefeated against Arizona at McKale Center.

"It was nice to see our serving; it really kind of created the rhythm of the match," Rubio said Friday night. "Pepperdine struggled a little bit and they weren't able to get in any rhythm offensively because they didn't pass the ball as well as they normally do. The beginning of the match I thought it could have gone either way."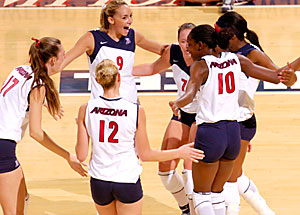 CHRIS CODUTO/Arizona Daily Wildcat
Members of the UA volleyball team celebrate a point during the Wildcats' victory over Pepperdine Friday in the Four Points University Park Wildcat Classic. Arizona swept all three of its matches to win the tournament title in McKale Center.
The Wildcats dominated the Waves in almost every statistical category including hitting percentage (.333 to .177), kills (56 to 44), assists (49 to 37), service aces (6 to 4) and blocks (4 to 2).
In the first game of the tournament, Arizona defeated Nicholls State in decisive fashion (30-23, 30-20, 30-22). The Wildcats out-hit the Colonels .323 to .021 and almost doubled them in kills (53 to 27), assists (45 to 24) digs (35 to 19) and blocks (11 to 2).
Despite the commanding statistics, Rubio said the Wildcats were plagued by poor concentration.
"I wasn't real pleased with our execution on our side of the net," Rubio said after the win. "I thought we made too many unforced errors. The serving was okay but still not as steady as I would like it to be. Fourteen errors in a three-game match is really not good."
Arizona heads to Washington, D.C., Friday through Saturday for the American University Tournament. The Wildcats will battle host American at 4 p.m. MST Friday before Saturday's doubleheader against Temple at 7 a.m. and Albany at 1:30 p.m.


Write a Letter to the Editor