Monday, September 13, 2004


Tortilla barrier to cultural exchange
With last week's announcement of the cancellation of the December graduation ceremony for undergraduates by the Commencement Policy Committee, the debate over UA's tradition of celebrating graduation with a mass tortilla tossing has risen once again.
For those of you unfamiliar with the tradition, it basically consists of flinging countless tortillas into the air like Frisbees in celebration during commencement. OK, so maybe it's not the grandest tradition, but seeing that many tortillas flying through the air is still quite a sight. [Read article]



A time for reevaluation
I will continually be surprised at the resiliency and strength of the human spirit.
Take this weekend, for example, which marked the third anniversary of the Sept. 11
terrorist attacks. On campus, commemorations of this event were kept to an individual prerogative, as the UA did not hold any official events for the first time since the attacks happened.
At first it seems disconcerting that such an event could pass by with little fanfare. [Read article]



Mailbag
Not all students can legally register to vote in Arizona
Josh Silverstein of the UA Young Democrats had a lot to say over the local news story about student voter registration. Too bad he decided only half the story was important to tell. By all means, if someone is 18 years old or older, please register to vote and then cast your ballot! Voter turnout has been sputtering down to embarrassing percentages. [Read article]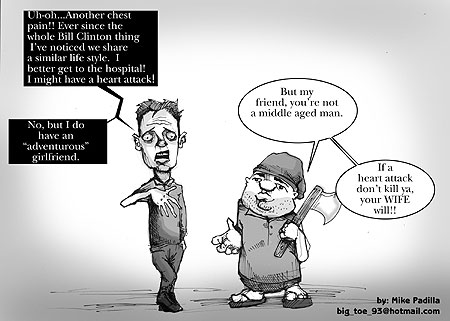 showAds('bigbutton')?>




showAds('mediumbutton')?>

showAds('wildlinks')?>