Wednesday, May 11, 2005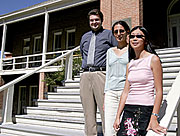 Of the more than 4,000 undergraduates receiving degrees during Saturday's commencement ceremonies, six graduates will be honored for their years of hard work and dedication with special honors and the chance to sit on stage.
Alistair Chapman and Xuemei Cai will receive the Freeman Medal, which is awarded each year to one man and one woman selected by administration for their moral character and community involvement.
The Nugent Awards, created in memory of Robert Logan Nugent who was the UA's executive vice president when he died in 1963, will go to Joshua Wright and Megan Hammer. [Read article]

·
Top seniors move on to brighter futures
·
Getting ready for graduation
·
Seniors get ready for graduation, goodbye
·
Three profs retiring
·
Seniors bid farewell to UA favorites
·
Graduating seniors will miss college lifestyle
·
No class gift this year: cell phones, Alumni Plaza to blame
·
Job outlook looking bright for graduates
·
ASUA wants Flutter Fetti, not tortillas
·
Gifts for grads vary, pricey
·
Debts come and go
·
Grads move on to bigger places
·
Top stories of the year
·
Top crime stories of the year
·
Year sees tuition hikes, budget reallocations
·
Campus a work in progress
·
Students to vote on Rec Center expansion
·
Governor targets prof, teacher retention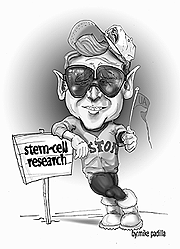 Basketball's back at the UA (Did it ever leave?); Dubya's back as well, for a few more years; The Yankees might not be back for a while; And, maybe, Ugg boots should have never arrived in the first place. The Wildcat Opinions staff weighs in on all that, plus the debate over stem cells and a modern-day Holocaust in our final debate of the year.
The terrible trifecta: aiming for the Sports Hall of Shame
What do dirty diapers, grungy jockstraps and smelly socks have in common? Munching on any of them beats having to relive this school year's terrible trifecta for sports. [Read article]

·
Undergraduate education should be president's priority
·
Graduates: Don't forget to give back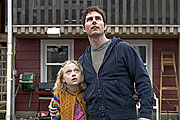 Spielberg, Cruise battle martians
He's not the tallest leading man in Hollywood, but film stars don't get much bigger (or hotter) than Tom Cruise. Plus, considering the fact that he's super nice, Cruise has not allowed his fame, wealth or series of scandals go to his head.
Now in his early 40s, Cruise has managed to stay young in heart and mind. He really does love to laugh, he loves to shoot the breeze, and he even does a decent Napoleon Dynamite impression. (And dating Katie Holmes ain't bad either.) [Read article]

·
Spoon makes sexy fiction
·
The best concerts of 2004-05
·
The best movies of 2004-05
·
The best books of 2004-05
·
The best albums of 2004-05

showAds('bigbutton')?>






showAds('mediumbutton')?>


showAds('wildlinks')?>