Wednesday, June 8, 2005

Welcome to Orientation, freshmen. You're no doubt getting your first taste of life away from home. Not bad, if a little scary, eh? In the very near future you'll be whisked away to the hideous Park Student Union, charged with the daunting task of choosing classes for the fall semester.
First, the bad news: There aren't many classes left. Budget cuts and the fact that everyone else registered months ago means you get the shaft. Anything with a remotely interesting title is gone. Sociology of Sexuality? You'd have to be an athlete. Not to mention entire departments restrict their listings partially or completely. No, you're going to be looking at such wonders as Elementary Persian and Introduction to Plant Pathology. [Read article]


·
A Third Road between Left and Right dummies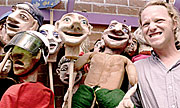 Puppets aren't just for kids anymore, and this Saturday night Tucson Puppet Works is aiming to prove that with The Puppet Variety Show. With the rise in popularity of television shows like Comedy Central's "Crank Yankers," MTV2's "Wonder Showzen" and movies such as "Team America: World Police," puppetry is leaving its squeaky-clean image behind in exchange for more grown-up humor.
So is this trend of bad-mouthed puppets indicative of diminishing morals in the media, or have those who grew up on Sesame Street just returned to their roots for inspiration? Probably both, but Tucson Puppet Works puppeteer Charles Swanson sees it as Americans finally catching up with their international peers. [Read article]


·
'Lords of Dogtown' doesn't disappoint
·
CD Review

showAds('bigbutton')?>






showAds('mediumbutton')?>


showAds('wildlinks')?>