Wednesday, July 27, 2005


A Q&A with UA president Peter Likins
Upon entering the University of Arizona, freshmen will be assailed with advice ranging from "work hard" to "don't take the east elevator in Koffler because it smells funny."
However, the best advice may come from a man who has been in the university system for more than 50 years: UA president Peter Likins.
Prior to coming to the UA, Likins served as president of Lehigh University, provost of Columbia University, a professor at UCLA and a development engineer at the Jet Propulsion Laboratory at the California Institute of Technology. He received a bachelor's degree in civil engineering at Stanford, a master's degree at the Massachusetts Institute of Technology and a doctoral degree at Stanford. [Read article]



University update
Flandrau Science Center temporarily closing its doors
The Flandrau Science Center will be closing its science- and space-oriented exhibits, planetarium presentations and theater shows in order to focus on an improvement for the center.
"Flandrau Beyond Tomorrow" is a plan to revamp the current center and plan for a new facility that will be part of the Rio Nuevo Downtown Redevelopment project. [Read article]




New ASUA president hopes to improve student life
As president of the Associated Students of the University of Arizona, Cade Bernsen knows communication between his Cabinet, President Peter Likins and UA students is imperative to running a successful campaign and accomplishing his major goals this year.
Working alongside Bernsen to help his ideas come to fruition will be Cassiopeia Sonn, administrative vice president, among many others.
As administrative VP, Sonn, a physiological sciences senior, said she will oversee and increase awareness of ASUA programs and services by establishing stronger relationships between ASUA directors and clubs with the appointment of three different directors. [Read article]




Financial aid available for all UA students
One of the significant challenges students face today is how to pay for a college education.
As tuition, room, board, books and other expenses continue to pile up, students (and parents) often need a little help covering these expenses.
That is where the UA Office of Student Financial Aid comes in.
"Our mission is to serve the students, and hopefully be proactive instead of reactive to their financial needs," said Cindy Quick, a program coordinator and counselor at the financial aid office. [Read article]




Advising, tutoring keep students on graduation track
With less than a month to go before the beginning of the fall semester, students are preparing to hit the books once again, working toward their moment in the sun - the day they get to take the long walk.
Earning a university degree is not an easy task, but with hard work and knowledge of some key facts, the journey can be a whole lot easier. The attention you pay to these little details, which can turn into major headaches in the long run, may determine your success or your failure at the UA. [Read article]




Stay on UAPD's good side: Just say no on campus
The University of Arizona Police Department made 374 liquor violation arrests and 246 drug violation arrests in 2004.
During the last school year, Residence Life handled 600 alcohol violations and 81 drug and paraphernalia violations.
Residence Life often handles these violations internally and UAPD is not called unless staff members feel uncomfortable, said Jim Van Arsdel, director of Residence Life. [Read article]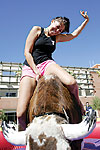 Get your greek on
A guide to Greek fraternities and sororities at th UA
Nearly 2,700 students at the UA are members of the 44 lettered social fraternities and sororities on campus. With so many groups focusing on different areas of service, academics and cultural issues, it is hard to keep them straight.
Sorority recruitment begins Aug. 17 in various locations on campus. Orientation check-in is from 8 a.m. to 3 p.m. in the Park Student Union, 615 N. Park Ave., and walk-ins are welcome. Chapters will extend their bids on Aug. 28. [Read article]




Student union provides food, entertainment and services
Between classes, students at the UA might grab a bite to eat, meet up with friends, study for a test or find a place to print out a research paper. Some might get a haircut, make flight reservations or take out cash from an ATM.
All of these things, and a lot more, can be done at the Student Union Memorial Center, in the heart of the UA campus.
The SUMC, first built in 1951, was reopened in 2003 after three years of renovations and expansions. Several restaurants and retail stores were added, including STA Travel and a Wells Fargo Bank branch. [Read article]




Drinking 101:the other gen-ed
College: That magical time in one's life lush with knowledge, personalgrowth and drinking.
Statistics prove that college and drinking go hand-in-hand. According to datacollected by Campus Health Services, 72 percent of male students and 56 percent of female students studying at the UA consume at least one alcoholic drink per week.
Social drinking can be a fantastic aspect of college life, but it can also bedeadly if ignorantly approached. [Read article]




Getting to and around campus, without a car
Many students find themselves riding bikes, taking buses, skateboarding or using other means to avoid the costs of parking permits and filling up their tanks in order to get to class.
According to the UA's Parking and Transportation Services, there are more than 9,600 bicycle parking spaces campuswide and clearly defined bike routes around campus. Some UA students prefer riding their bicycles, as they can get around more quickly than they can walking from class to class. [Read article]




Counseling, birth control available at Campus Health
Going from living at home with your parents to being on your own can be a big adjustment. Campus Health Service provides many services to students in transition, including counseling and access to birth control.
Campus Health, 1224 E. Lowell St., offers full counseling services and sees students on a short-term basis.
Mental health clinician Jill Grassman said Campus Health has specialists in anxiety, stress, substance abuse, eating disorders and couples' therapy. [Read article]




showAds('bigbutton')?>






showAds('mediumbutton')?>

showAds('wildlinks')?>