September 2, 2005


Man dead after police chase
Murder suspect killed near UA
A murder suspect died yesterday evening after he led police on a high-speed chase near campus, officers said.
The Tucson Police Department was conducting surveillance on the man's house near North Stone Avenue and North Sixth Avenue when the unnamed man drove off in his white sport-utility vehicle, said TPD Lt. Vicki Reza.
The suspect then led police on a high-speed chase until he crashed his SUV into a pole on Mountain Avenue north of East Lee Street, Reza said. [Read article]




Labor Day weekend means DUI checkpoints
Many students believe a three-day weekend is just one more reason to party, but sobriety checkpoints may influence some plans.
The Pima County Sheriff's Department and the Southern Arizona Driving Under the Influence task force will be setting up sobriety checkpoints tomorrow for the first time in nearly 10 years.
The operation will start at 10 p.m., and the location of the checkpoints will be announced tomorrow, according to a press release. [Read article]




Flandrau closing planetarium, science exhibits
Center closing for Rio Nuevo revamp
The Flandrau Science Center will be closing its science and space-oriented exhibits, planetarium presentations and theater shows in order to focus on its future location at the planned downtown UA science center.
Flandrau Beyond Tomorrow is a plan to revamp the current center and create a new facility that will be part of the Rio Nuevo Downtown Redevelopment project. [Read article]




Science Center plans include 360-foot-high bridge
More ambitious plans for the proposed University Science Center, a focal project of the downtown rejuvenation project Rio Nuevo, could turn the Flandrau Science Center's replacement into a potential city landmark.
Since the university and city contracted New York-based Rafael Viñoly in June as chief architect for the University Science Center, plans for the center have grown to include a 360-foot-high bridge arching over Interstate 10, likened in importance to St. Louis' Eads Bridge. [Read article]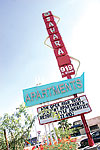 Sahara offers students an oasis in the desert
The lack of on-campus housing has opened doors for a new student residence complex that offers apartment and dorm-style amenities much like UA residence halls.
Sahara Apartments, 919 N. Stone Ave., was a hotel in the 1950s, but after a $12 million renovation, it's now a student housing complex that can house more than 200 students.
The complex opened its 169 rooms Aug. 15 with a mission to provide students with off-campus housing similar to UA residence halls in terms of the experience and price. [Read article]



Recent break-in attempt heightens security fears
Simple tips should be obeyed to ensure safety, police say
A UA student told police earlier this week that someone tried to break into her campus-area apartment.
Police were handing out whistles for the Whistle Stop for Safety program, a joint police effort to prevent crime by informing students of safety tips, when the student approached them, said Sgt. Ron Zimmerling, Tucson Police Department. [Read article]



Word Up
Quotes from around campus and the world
"They make your bed for you and that's nice. But besides that, it's kind of a pain." - Todd Bedrick, accounting senior and would-be Seasons apartments tenant, on having to stay in a hotel while the apartments are being finished
"I have to admit, their voices are pretty loud." - Alex Pelan, history sophomore, on overhearing personal information about topics like birth control and sexually transmitted disease testing while waiting in the lobby of Campus Health [Read article]




Fast Facts
Things you've always never wanted to know
Under certain conditions of moisture and heat, the flesh of a buried body will turn to soap. Known as adipocere, this strange substance is a chemical much like baking soda mixed with fat (and thus almost identical in composition to soap) and is called "grave wax" by undertakers. For years, the corpse of William von Ellenbogen, a soldier whose body turned to adipocere after he was killed in the Revolutionary War, was on display at the Smithsonian Institution. [Read article]




showAds('bigbutton')?>






showAds('mediumbutton')?>

showAds('wildlinks')?>