By Mika Mandelbaum
Arizona Daily Wildcat
September 2, 2005
Print this


The lack of on-campus housing has opened doors for a new student residence complex that offers apartment and dorm-style amenities much like UA residence halls.

Sahara Apartments, 919 N. Stone Ave., was a hotel in the 1950s, but after a $12 million renovation, it's now a student housing complex that can house more than 200 students.

The complex opened its 169 rooms Aug. 15 with a mission to provide students with off-campus housing similar to UA residence halls in terms of the experience and price.

"It's based on university residence hall rates so we can say that for the same price, we can offer you more," said Ted Mehr, owner of the Sahara Apartments.

Mehr bought the Sahara Motor Inn in 1995 with the intention of keeping it as a hotel, but formidable legal and tax issues called for a change in plans.

"I look at this in sort of a paternal way. I feel like the people who live here are like my own kids."
- Ted Mehr, owner

"We had to look at alternative uses," Mehr said. "And with the shortages of dormitories at the university, we decided that this would be the most feasible use for this building."
More than 200 students were put on a waiting list for on-campus housing this year, which may be attributed to the closing of Maricopa Hall, 1031 E. North Campus Drive, which has 111 rooms, said Jim Van Arsdel, director of Residence Life.
Kyle Peters, an aerospace engineering freshman, said he lives at Sahara because he was unable to get into the dorms, and without a car, he needed to be close to campus.
"I have to walk to campus every day," Peters said. "It's not too bad. It's only a mile."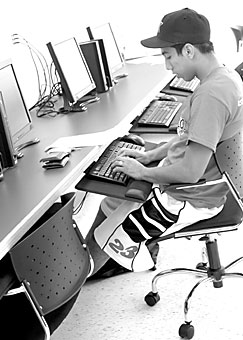 Photos by Courtney Smith/Arizona Daily Wildcat
Among the high-tech and resort-style amenities at the Sahara Apartments are a private movie theater, clothing boutique, café, swimming pool, social lounge and computer center.
The complex looks like an apartment community, but has many amenities that make it more like an off-campus residence hall. The idea is that students can live in a community that offers all the accessibility of living in a UA residence hall, Mehr said.
Sahara has its own exercise facility, social lounge and swimming pool. It also has its own movie theater, computer service center, clothing boutique, café, mini grocery store and shuttle service to the UA.
"It's quite convenient living here," said Mark Franks, a chemistry exchange student from England. "It's got all the amenities, doesn't it?"
Like the UA residence halls, most of the Sahara rooms are double occupancy, so students must share a room. But Sahara is more luxurious than the dorms because each room has a kitchen and bathroom, Mehr said.
Jose Rios, a communication freshman, moved to Sahara after Residence Life told him the dorms were full and he needed to make off-campus living arrangements.
"I did (want to live in the dorms) but they ran out of space," he said. "But the rooms are bigger here. It's cheaper, and the dorms don't have pools and stuff."
The complex also imitates the dorm structure by organizing a student government to plan programming and make decisions about how the community will run.
"I want to emphasize the sense of community and family," Mehr said. "I look at this in sort of a paternal way. I feel like the people who live here are like my own kids."
Mehr said he is in the process of hiring resident assistants for the complex who will be trained at the UA.
"When I started, my plans weren't this elaborate," he said. "But as we went along, we really wanted to do it right and nice."
Mehr said he plans to market his complex mostly to incoming freshmen but also to the current freshmen in the UA residence halls who want to continue living the dorm experience.
"We are saying that if they like the concept of dorm living, then come live here," Mehr said.


Write a Letter to the Editor