September 8, 2005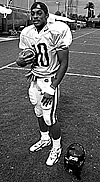 Fast first impression
Speedster Thomas makes mark on receiving corps
Arizona football head coach Mike Stoops might have a good reason for closing the Wildcats' daily practices from now on.
Stoops could have a secret weapon in freshman receiver Mike Thomas, and if opponents want to get a head start on containing the DeSoto, Texas, native, the practice field would be the place to start.
"He plays exactly how he practices - full speed," said Arizona wide receivers coach Charlie Williams. "He's very confident in what he does. He listens. He learns. He works to get better every day." [Read article]



The Rover: Hey football fans, Cats need you in the stadium
It's fourth-and-three, the opposition trails the Wildcats by three points with the ball right around midfield and there's just under one minute left.
Who does Arizona football head coach Mike Stoops call on to make the game-saving play? Darrell Brooks? Antoine Cason? Marcus Smith?
Nope. The 12th man in the stands.
With the first of six home games this season coming Saturday against NAU, it's up to Arizona fans to show the nation that the Wildcats are ready to have a winning college football program. [Read article]




Soccer eyes road victory against struggling Princeton
While many sports teams face just as many easy games as challenging ones early in their seasons, the Arizona women's soccer team has enjoyed no such give-and-take in 2005.
Just three games deep, the Wildcats have taken on Missouri, No. 15 Pepperdine and No. 21 Cal Poly San Luis Obispo, all teams perennially in or near the national Top 25.
Now, Arizona (1-1-1) faces Princeton (0-2), a 2004 Final Four team, at 2 p.m. in front of a nationally televised audience on ESPNU in the Princeton Invitational. [Read article]



Cats head into match undefeated
Win over Gauchos today would place Rubio within
striking distance of all-time wins record at UA
With a spotless record, the No. 15 Arizona women's volleyball team has started the season on the right foot.
It looks to continue its winning ways today when the Wildcats meet No. 18 University of California, Santa Barbara in Santa Clara, Calif., at 4:30 p.m. in the Bronco Invitational.
In the Four Points University Plaza Wildcat Classic in McKale Center last weekend, Arizona (3-0) swept matches against Winthrop, No. 20 Georgia Tech and Northwestern to earn the tournament championship for the second consecutive year. [Read article]




showAds('bigbutton')?>






showAds('mediumbutton')?>

showAds('wildlinks')?>