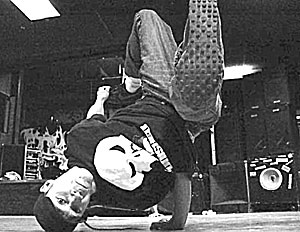 Nate Camacho/Arizona Daily Wildcat

B-boys of the future Erik Thurman and We:Whun will 'drop it like it's hot' when they 'put their thing down, flip it and reverse it' in the 'Paying Dues' break dancing competition at 7 Saturday night at the YWCA.

By Michael Petitti
Arizona Daily Wildcat
September 8, 2005
Print this


Students Pop and Lock

"Breakin'" is the title of the laughable '80s film about the burgeoning dance craze known as break dancing. (Its ever so sweet tagline: "For the break of your life! Push it to pop it! Rock it to lock it! Break it to make it!") Despite frequently being a silly and exploitative look at break dancing, "Breakin'" was the first commercial look into the increasingly popular form of dance that was coming from the streets.

However, even the finest break dancers from the '80s would be left breathless by the remarkable feats of strength, skill and endurance displayed by modern break dancers, frequently referred to as "B-boys" or "B-girls." Local DJ Ian Sugarman noted the differences in both style and intricacy.

"More explosive and intricate movements," Sugarman said. "B-boys are doing stuff now that people in the '80s would have never thought possible. The dress style is also different. B-boys are really stylish."

On Saturday, Sugarman and pals Nate Camacho and Erik Thurman will host "Paying Dues," a break dancing competition at the historic YWCA. Sugarman notes that the show was a slowly evolving idea that turned into grand aspirations.

"Erik came up with the name and the basic idea of inviting out of state crews," Sugarman said. "We just built on it from there. We wanted to do something that would be bigger than anything Tucson has seen yet as far as break dancing goes."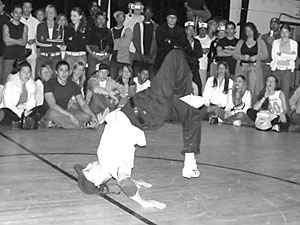 Jackie Villarreal/Arizona Daily Wildcat
Erik Thurman of B-Boys of the future.
Big indeed, the event boosts a first prize of $1,000 and will feature dancers and judges from all over the country. Sugarman tags the event as one "organized by youth for youth," which may be its biggest accomplishment.
"When I say youth, I am talking about myself, 19, and Nate, who just turned 20," Sugarman said. "We've both been promoting shows since before we were 18, but most people throwing events of this caliber are much older, whereas we are as old as or younger than a lot of our audience."
Despite being young and not a dancer himself, Sugarman has been captivated by the dancing style since he was young.
"When I was about middle-school age, I remember going to some break dancing events and being really inspired by not just the dancing, but the whole atmosphere of them," Sugarman said. "I wanted to get involved in organizing these types of events because I feel that break dancing is such a positive outlet and an amazing art form, and I feel like Tucson needs more cultural events like this."
Sugarman hopes he and his buddies, as well as the youth of Tucson, can make events like "Paying Dues" a commonplace in the community.
"This is the first year of this actual event, and we plan to make it an annual thing," Sugarman said.
With B-boy crews and judges from around the country coming in for the event, Sugarman hopes to spark locals' interests in break dancing.
"The invited crews, so far, are Masters of Mayhem and Vicious Germz, who are both from Texas, Knucklehead Zoo from Las Vegas, Bham Tribe from Los Angeles and Mellow Drama and Furious Styles Crew from Phoenix. The Judges are Poe One from Los Angeles, Bob the Balance from Seattle and House One from Phoenix," said Sugarman.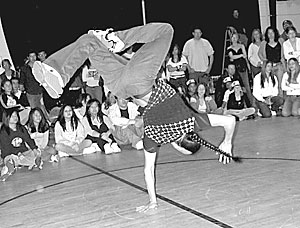 Jackie Villarreal/Arizona Daily Wildcat
Erik Thurman of B-Boys of the future.
The event will be held at the YWCA on East University Boulevard and North Fifth Avenue. While the building may seem like a strange choice - generally serving as the office building for the YWCA organization which aims at "eliminating racism, empowering women" - Sugarman explains it is an ideal location for break dancing.
"The historic 'Y' has an auditorium perfect for the break dancing environment," Sugarman said. "There is a big hardwood floor area for the dancing and a carpeted walkway bordering it, where the vending tables will be selling merchandise and food."
It is on those hardwood floors that the crews of break dancers will compete for the prize. Sugarman notes that the event's title is not ironic in any sense of the word.
"We decided to call it 'Paying Dues' because we're inviting eight out-of-town crews that have been on the come-up in the breakdancing scene and paying their dues," Sugarman said. "Plus, we're keeping eight slots for open sign-ups for lesser known or local crews to get a chance to pay their dues and go up against tough competition."
Once crews complete this event, a chance remains for a break dancing career. However, without events like "Paying Dues" and others like it across the country, the possibility of launching such careers is spotty at best.
"It can be lucrative," Sugarman said. "Say if a B-boy gets corporate jobs for commercials or high-profile showcase jobs, but very few make it to that level because B-boying is still very underexposed."
To check out some first rate break dancing and get that silly "Breakin'" nonsense out of your head, head down to the YMCA, 738 N. Fifth Ave., on Saturday. Admission is $10, or $20 with a camcorder, and the event is all ages.


Write a Letter to the Editor