September 15, 2005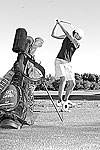 2005 Golf Preview: Back in the swing of things
Arizona golf teams looking for better depth, consistency
Students love the beginning of the year. It is a time of renewal, a time to come back to school better than they left it.
Members of the Arizona men's and women's golf teams are no exception. With a new school year comes a new season, and both squads are anxious to impress their competition.
The No. 16 men's golf team finished 17th at June's NCAA Championships, missing the 54-hole cut by two strokes. [Read article]




Football Notes: Purdue first of woeful foes
Tight end Wood emerging as threat in passing game
The Arizona football team opens its toughest stretch of the 2005 season Saturday at Arizona Stadium against No. 12 Purdue.
In a four-week span, Arizona (1-1) squares off with the Boilermakers (1-0) and takes to the road for Pacific 10 Conference showdowns with No. 15 California (2-0) and two-time defending national champion and top-ranked Southern California (1-0). [Read article]




Volleyball Notes: Knee injury sidelines Butkus for 6-8 weeks
The No. 20 Arizona women's volleyball team suffered its first major injury of the season in its Sept. 9 win over UC-Santa Barbara when junior setter Stephanie Butkus injured her right knee while digging a ball during the third game.
"I'm not allowed to go through the specifics," said Arizona head coach Dave Rubio. "All I can tell you is she's out with her injury for six to eight weeks."
Sophomore setter Amy Dyck will start in the interim. [Read article]



Running club always on the go
Running club mixes fun with fitness
Friday at 6 a.m. is a time when most UA students hope not to have to open their eyes, much less operate. For members of the Arizona Running Club, they're already up and off to the races.
The sports club meets to train every weekday - 7:30 p.m. Tuesday through Thursday and 6 a.m. Mondays and Fridays.
On every run, a different member of the five-person executive board leads a run around Tucson, varying from three to five miles. [Read article]




showAds('bigbutton')?>






showAds('mediumbutton')?>

showAds('wildlinks')?>