September 15, 2005


Michael Moore: the message vs. the messenger
Michael Moore wrote an open letter to George Bush that has been circulating around my e-mail inbox throughout the past few weeks, and it is a perfect example of why he's extremely great and, simultaneously, a colossal jerk.
The letter is basically a laundry list of everything Moore feels the Bush administration did wrong or wrongly didn't do in regard to Hurricane Katrina.
He brings up some salient points that the country should be asking itself right now, like how the war in Iraq might have affected the National Guard's response to the hurricane and how global warming might have affected the ferocity of the hurricane itself. [Read article]



Workin' hard ... for the money?
The scene: I'm lying in bed, desperately trying to sound way more awake than I am. It's 7:30 a.m., and I'm on a phone interview for a summer internship, hoping my confident voice is conjuring up a mental image of someone dressed in a power suit, casually sipping a latte or at the very least, the image of someone who took the time to get out of bed for her interview.
The real me, on the other hand, is swatting blankets off my head and realizing that I still have some drool on the side of my face as the voice on the phone tells me one last thing: "Oh, and we won't be able to pay you. It's just not in the budget this year." [Read article]



Editorial: Little need for search committee secrecy
At its first meeting last week, the presidential search committee charged with replacing President Peter Likins took great pains to underscore a curious point - that the names of prospective candidates would remain under tight wraps until the finalists were announced.
Odd as it may seem that secrecy would be the overarching theme for a committee charged with such a great responsibility, the committee did offer a rationale that, at least on its face, doesn't seem particularly unreasonable. [Read article]



Mailbag
Katrina brought sense of racial awareness
"Racism still alive, they just be concealing it." I thought this lyric from the mouth of the infamous Kanye West would be a well-placed piston to get our cerebral cylinders turning on the oh-so-familiar topic of race relations in America.
Every so often, an event of catastrophic proportions pushes the racial envelope into the forefront of our daily lives. No I'm not talking about a random occurrence. I'm talking about a young black male being shot 12 times by two white officers while unarmed or a classaction lawsuit against a major food chain citing racial discrimination. I'm talking about Emett Till, the Rodney King beating and now our modern-day deviant - Hurricane Katrina. [Read article]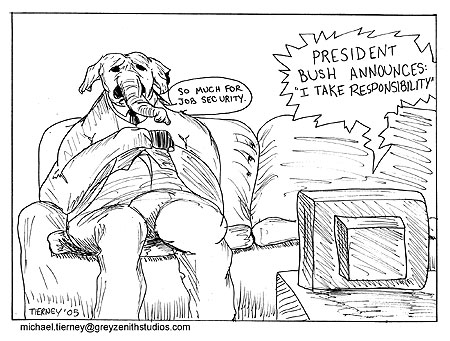 showAds('bigbutton')?>






showAds('mediumbutton')?>

showAds('wildlinks')?>