Tuesday, September 20, 2005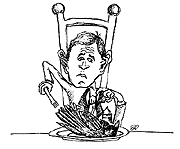 Time out. Did President Bush actually apologize to the nation last week for the government's ham-fisted response to Hurricane Katrina? Am I living in some alternate reality - namely, Russia - where the media reports on apologies to the American people that were never made and unintended bouts of contrition? Have I lost my marbles?
No - no, I haven't. And while Bush didn't go quite as far as to say, "I'm sorry," the Web sites of major U.S. newspapers have confirmed my suspicions: This is a presidency in shambles. This is a presidency so broken and bruised it has finally lowered itself into the bowels of shameful penitence. [Read article]

·
It would be a great day if NASA had to have bake sales
·
Editorial: Sex assault safety key: lock door, be aware
·
Mailbag
Latest Issue: September 15, 2005
Latest Issue: September 20, 2005
More than a pop culture phenomenon, yoga is growing as a route to spirituality
Spirituality has rapidly become one of the fads popularized by mainstream media and celebrities, whether it is Madonna plugging Kabbalah or Sting sculpting his body with yoga. But the practice of yoga has 5,000-year-old roots and is much more complex than its popular portrayal.
Yoga, in general, combines spiritual, physical and emotional practices to form a deeper connection with one's self and the outer world. However it is not limited to a singular definition and seems to take on a different meaning to everyone who practices. [Read article]

showAds('bigbutton')?>






showAds('mediumbutton')?>


showAds('wildlinks')?>