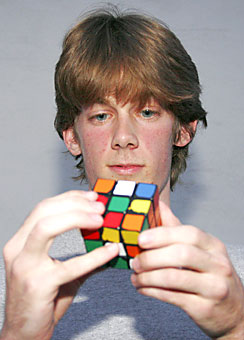 Jacob Konst/Arizona Daily Wildcat

Mechanical engineering freshman Brent Morgan will be competing in the Rubik's World Championship Nov. 5 and 6 in Orlando, Fla.

By Nicole Santa Cruz
Arizona Daily Wildcat
Wednesday, September 21, 2005
Print this


A UA student is twisting his love of math into a worldwide competition.

Brent Morgan, a mechanical engineering freshman, will be competing in the Rubik's World Championship next month after picking up the hobby and realizing his knack for it.

Morgan said he started fiddling with the cube three years ago after looking online to see what mathematical algorithms were involved with solving the puzzle.

Morgan said he has the extraordinary ability to solve a Rubik's Cube in 10 seconds, and can also solve the cube under water, blindfolded, one-handed and behind his back.

Morgan said he isn't even nervous about the world championship in November.

"You want to train yourself to work under pressure. It's just mental training," Morgan said, mentioning that almost everyone gets nervous in competitions.

Morgan placed second in the U.S. Rubik's Cube Championship in 2004.

You want to train yourself to work under pressure. It's just mental training
- Brent Morgan, Rubik's Cube champ

Ken Morgan said his son first competed in the Rubik's Cube World Championship when he was 15 years old.
In preparation for the tournament, Morgan said he practices multiple hours a day.
Morgan was part of a cubing club in high school and hopes to start one at the UA. He won two talent contests at his former high school, University High School in Tucson, for solving the cube behind his back, said Morgan's father.
"Basically I just showed everyone how to solve it," Morgan said of his impact on the club in high school, mentioning that the cube gained popularity at school after the club's initiation.
"It's just like any game or hobby that anyone picks up," Morgan said about his talent.
The Rubik's Cube was invented in 1974 by Eno Rubik in Budapest, Hungary, but was not exported to the United States until May 1980, creating the Rubik's craze, according to the Rubik's Cube official Web site.
Ton Dennenbroek, a cube enthusiast from Amsterdam, caught sight of the craze in the '80s but didn't take it seriously until 2000 after becoming acquainted with a friend who changed his method of cubing, Dennenbroek said.
Dennenbroek said he also plans to attend the World Championship in November and is training two hours a day in preparation although he compares cubing to any other hobby, such as crossword puzzles.
Although Dennenbroek is excited about attending the championship, he said he is not there to set any records.
"I'm not hoping to win," Dennenbroek said.
As for Morgan, he said cubing is just another one of his hobbies, which include reading and adapting to college life.
Morgan said the cube doesn't hurt him when he picks up women, either.
"It's impressive," Morgan said.


Write a Letter to the Editor