Thursday, September 22, 2005


Teenagers and virginity: an oxymoron?
"Kids be gettin' freaky!"
That is a basic summary of the recently released study "Sexual Behavior and Selected Health Measures" by the National Center for Health Statistics. It is "the government's most comprehensive survey of American sexual practices and reproductive health" according to The New York Times , and I must say, it is quite steamy.
However, by far the most shocking aspect of this entire report is that it was analyzed by someone named (I kid you not) Dr. Jennifer Manlove. That's not some sort of made-up porn name; a person who studies sex and is named Dr. Jennifer Manlove actually exists. Seriously, I couldn't make this up if I tried. [Read article]



A shot of reality
I ran into an acquaintance a few days after he had been cited as a minor in possession of alcohol by the Tucson Police Department. With obvious regret in his voice, he showed me the police citation, laughing just like a true penitent, and announced, "I'm gonna hang this up."
Apparently, there's no connection between the desired and actual effects of the programs implemented in Pima County to discourage underage drinking. But, in response to recent studies on the issue, county officials are looking to change all that. [Read article]



Editorial: Caring about courts important
It's not often that C-SPAN offers funnier fare than the foul-mouthed clowns of Comedy Central or the overwrought teens of MTV.
Just last week, though, the honorable senators of the Senate Judiciary Committee turned what could have been an opportunity to quiz Supreme Court nominee Judge John Roberts into an almost comical, self-serving soapbox from which they could feed their already sizable egos. [Read article]



Mailbag
Nuclear policy needlessly endangers civilians
I would like to commend Scott Patterson for drawing attention to the ramifications of the Doctrine for Joint Nuclear Operations ("How new U.S. nuclear policy will ignite WWIII"). This document, which can be viewed online at www. globalsecurity.org, represents an unprecedented threat toward national and global security.
In addition to allowing for the pre-emptive use of nuclear weapons under ambiguous, subjective conditions, the doctrine makes assumptions that could prove deadly. For one, the United States in this case is not facing a centralized enemy. Because terror cells operate outside the context of states, it is impossible to target every possible threat, and it is likewise impossible to avoid massive, horrific civilian casualties. [Read article]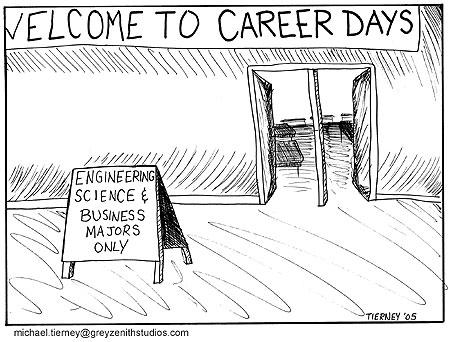 showAds('bigbutton')?>






showAds('mediumbutton')?>

showAds('wildlinks')?>