Thursday, September 22, 2005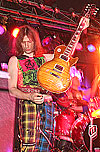 Taking you back
Mockingbirds echo rockin' sound of '80s
Think of it as the decade that just won't die.
We may be well into the 21st century but that 10-year span between 1980 and 1989 will not go quietly into the abyss. And if local cover band The Mockingbirds has anything to say about it, then the decade of Reagonomics, legwarmer chic and pre-Kabbalah Madonna will continue to live on.
The Mockingbirds have been around for seven years. Most of the original members of this band, however, moved to San Diego two years ago. Jason Claybaugh, lead singer and bassist, is the only original member who remains. [Read article]




Tucson and campus calendar
Today
The Dimes - This indie rock band will be a nice change from the daily "Bear Down" brainwashing we hear every day between classes. UA Mall. Noon. Free
UA Wind Ensemble and Wind Symphony - "Suite Jubilation" will feature the works of Gustav Holst and Robert Jager. Crowder Hall. Southeast corner of North Park Avenue and East Speedway Boulevard. 7:30 p.m. Free
Tucson Greek Festival - With loads of Greek food, music, dancing and imports, you might end up yelling "Opa! Opa! Opa!" all the way home. Runs all weekend. St. Demetrios Greek Orthodox Church. 1145 E. Fort Lowell Road. 5 p.m. - 10 p.m. $2 [Read article]




Scatter shot
A collection of views, gripes and nonsense
Gripe of the week
A recent trip to www.facebook.com confirmed my latest gripe. I'm tired of people saying they like "all kinds of music." That's not true. That means you don't really like any kind of music. "Favorite music" means favorite music, i.e. the music that you listen to most. You can't listen to everything all the time. Don't tell me that you grab a reggae CD, then pop in some techno, listen to some Britpop, go for some chanting monks and finish it up with a dose of Broadway show tunes. Just write nothing, even if you're embarrassed by the truth. [Read article]




'Just Like Heaven' more like hell
You know what I liked? That "Ghost Dad" movie with Bill Cosby.
I doubt it was good, but I was only 6 when it came out.
You know what I didn't like? "Just Like Heaven." Mainly because it just came out and I'm not a high school girl.
It's all about seeing a flick in the right place and right time in your life. I'm still waiting for my high school girl phase.
In one of the most mind-numbing movies of the year, "Just Like Heaven" shows the romantic pairing of a ghost and a man. You can almost hear Hollywood say, "It was terrible in 'Ghost,' why not try it again?" [Read article]



Commentary: Doctors to Spears: Contraceptive jelly not meant to be used on toast
Sean Preston Federline.
That's the name that the formerly attractive Britney Spears and the perpetually sleazy Kevin Federline have given to their first-born son. Originally the name was going to be London, named after the place where the couple first met and fell in love, according to the new mother. However, I would think that if they were going that route then the name "Darkened subway car while elderly transient looks on" would have been more appropriate. But, then again, who among us can really understand celebrities? [Read article]



The Fiery Furnaces heat up Solar Culture
This is your grandmother's music. Yes, the new album by The Fiery Furnaces, Rehearsing My Choir, is just the kind of music your grandmother would make if she were privileged enough to be backed by two dangerously talented grandchildren. The Fiery Furnaces, comprises Friedberger siblings Eleanor and Matt, have been making some of the most original and exciting music in recent history.
Now, the band again pushes the boundaries of sonic experimentation with Rehearsing My Choir, an 11-song anthology of an elderly woman reflecting on her life. On each track, listeners will notice a new and temporary addition to the Furnaces' sound, their grandmother, Olga Sarantos. Both Olga and Eleanor sing on Rehearsing My Choir as the elderly woman reflects on past and present times. Meanwhile, Matt performs a variable cornucopia of musical theatre in the background. Eleanor notes that the unique album idea came about because time was of the essence. [Read article]




'Moliére Than Thou' reaches college level
One might find a production of a classic to be a yawn, but Timothy Mooney has pushed to make his one man show "Moliére Than Thou" appeal to all
audiences.
"I've re-written his work with new rhymed pentameter extracting the funniest monologues of his career," Mooney said of the French 17th-century playwright.
In the comedic monologue, Mooney plays Moliére, a playwright of a production troop sponsored by King Louis XIV. When his entire troupe becomes ill the night of the play, Moliére is forced to take the stage on his own. [Read article]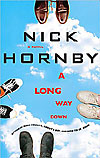 Author Hornby combines suicide with slapstick
There are few things in this world that can make a long Friday afternoon wait at the Department of Motor Vehicles bearable. Luckily for me, one of those things is Nick Hornby's latest novel, "A Long Way Down." Despite being a book that centers around suicide - or attempted suicide - it had me laughing out loud in the crowded waiting room as I listened for my number to be called.
Nick Hornby has already had his fair share of literary hits - among them, "High Fidelity" and "About a Boy" - and his newest effort doesn't disappoint. While some have described his novels as "lad lit," appealing strongly to a male audience, in "A Long Way Down" he proves the versatility of his voice by convincingly penning a woman's point of view. Well, two women, actually. [Read article]




Erin McKeown a one-woman show
Singer/songwriter Erin McKeown needed a challenge. After making three albums of critically acclaimed music that spanned genres from Tin Pan Alley to punk, McKeown wanted to try something different. The result is the stunning We Will Become Like Birds, which is impeccably brilliant without all the genre-hopping.
"It's a very different album from other things I've done," McKeown said. "Other things I've done have been more diverse. In terms of genre, there's always been sort of a swing element and some old time rock 'n' roll and maybe some punk involved. This time I wanted to make an album that was entirely modern pop music with a little bit of electronic touches to it." [Read article]



You always remember your first time
My yellow-bellied beauty solution
I've never been one for following trends, but when I found myself stuck behind two fashionable blondes who had no problem blocking my path with their turtlelike gait, I couldn't help but wonder, what made these girls any different than me? Although they housed their notebooks in designer totes while mine were stored in a well-used Target knock-off, we were all obviously on campus to get the best education possible, right? [Read article]




'Office' alumni bring the funny with 'Extras'
How do you follow up what is arguably the funniest show in the history of television? Just add celebrities.
"Extras," the new comedy from Ricky Gervais and Stephen Merchant, the creators of "The Office," is almost as funny as its predecessor and has the added bonus of having a celebrity guest star in every episode.
Kate Winslet appears in the opener and proceeds to give advice to the characters on how to talk dirty. It's disgusting, hilarious and perfect for HBO. [Read article]




The Dimes prove they're no cheap talent
There comes a time in every little band's life when they finally get a chance to throw their touring diapers away and trade them in for a pair of regular underwear: the production studio.
The Portland, Ore., quartet, The Dimes, was wearing diapers for quite a while, but decided full-on underwear just wasn't the right thing for them. That's why they decided to go for something more along the lines of pull-ups instead. (I'm a big band now!) [Read article]



Meatyard exhibition: Sounds like a porno ... but it's not
Born in Normal, Ill., in 1925, Frank Eugene Meatyard seemed destined to live up to the name of his birthplace. A seemingly ordinary American, almost exceptionally so, Meatyard served for his country in the U.S. Navy. He married once and procreated (three other Meatyards, to be exact). A family man, he also served as president of the Parent-Teacher Association and baseball coach. He worked in his own small business in Lexington, Ky., the adopted city where he would live until his death in 1972. [Read article]



Big AZ Music Festival highlights local scene
In its sophomore year, the Big AZ Music Festival celebrates not only the local music scene but also exposes local music advocates to a selection of relatively unknown bands from across the country.
It is a chance for of-age and underage students alike, as well as other Tucsonans, to mingle and listen to some great music.
Local bands will be set up along Fourth Avenue, Congress Street and University Boulevard. Many of the events and shows are all ages, but those located within bars and other traditionally 21-and-over establishments will in fact be 21 and over. [Read article]



Sweaty assclowns distract from Oasis
First of all, there are things to be said about the two opening bands for Oasis. The opener Kasabian, from a biased point of view, is a far superior band to the second performers, Jet. Jet, although good looking, and semitalented are an Australian band that wishes they were British, and their catchy Top 40 hits lack the musical substance that Kasabian should be revered for.
Kasabian has a hypnotic, catchy dark rock sound that is clearly British, and their debut self-titled album is definitely worth buying. The interesting name of their band "Kasabian" happens to be last name of the girl get-away driver in the Manson murders. The odds that this sinister little fact could be a coincidence is to be determined, although, "Helter Skelter," by the Beatles was played in the theater directly after the show. Hmmmm. The lead singer of Kasabian is another delightful specimen of the nerdy "British rocker" phenomenon. For those who have not heard of this phenomenon, an in-depth description will now take place. [Read article]




showAds('bigbutton')?>






showAds('mediumbutton')?>

showAds('wildlinks')?>