Thursday, September 22, 2005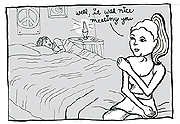 "Kids be gettin' freaky!"
That is a basic summary of the recently released study "Sexual Behavior and Selected Health Measures" by the National Center for Health Statistics. It is "the government's most comprehensive survey of American sexual practices and reproductive health" according to The New York Times , and I must say, it is quite steamy.
However, by far the most shocking aspect of this entire report is that it was analyzed by someone named (I kid you not) Dr. Jennifer Manlove. That's not some sort of made-up porn name; a person who studies sex and is named Dr. Jennifer Manlove actually exists. Seriously, I couldn't make this up if I tried. [Read article]

·
A shot of reality
·
Editorial: Caring about courts important
·
Mailbag
Latest Issue: September 22, 2005
Latest Issue: September 20, 2005
More than a pop culture phenomenon, yoga is growing as a route to spirituality
Spirituality has rapidly become one of the fads popularized by mainstream media and celebrities, whether it is Madonna plugging Kabbalah or Sting sculpting his body with yoga. But the practice of yoga has 5,000-year-old roots and is much more complex than its popular portrayal.
Yoga, in general, combines spiritual, physical and emotional practices to form a deeper connection with one's self and the outer world. However it is not limited to a singular definition and seems to take on a different meaning to everyone who practices. [Read article]

showAds('bigbutton')?>






showAds('mediumbutton')?>


showAds('wildlinks')?>