Monday, September 26, 2005
Arizona women's basketball star Shawntinice Polk dead at 22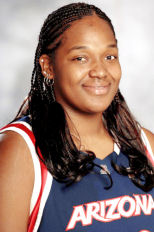 University of Arizona women's basketball team center Shawntinice Polk collapsed at the McKale Center on Monday and died, according to a university release. The Family Studies and Human Development senior had not been working out or practicing when she collapsed about midmorning Monday, according to the university. Polk, a 6-foot-5-inch, center, was taken to University Medical Center afterward. "This is a tragic day for Shawntinice's family and for the University of Arizona ," athletic director Jim Livengood said in the release. "We simply feel for everyone who knew this wonderful young woman."
Polk was a preseason Wade Trophy candidate and Wooden Award candidate for the 2005-2006 season. She was Arizona's career leader in double-doubles with 46 after just three season at Arizona.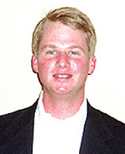 The hurricane that struck the Gulf Coast Saturday also impacted students at the UA, including the student body president who is gone this week after leaving to help his family in Texas.
Cade Bernsen, Associated Students of the University of Arizona president, left Friday evening for Beaumont, Texas, one of the cities hit hardest by Hurricane Rita, the second hurricane to pummel the Gulf Coast region in four weeks.
Erin Hertzog, ASUA executive vice president, will act in Bernsen's place while he is gone, which he said will probably last at least a week. As part of her duties Hertzog will give a speech on Wednesday at the Campaign Arizona ceremony and attend the Arizona Board of Regents meeting Thursday and Friday, said Tyler Carrell, ASUA chief of staff. [Read article]

·
Run 'N' Roll brings in $140K for disabilities
·
Greeks get educated on sex assault prevention
·
Quick Hits
·
Winning war for philanthropy
·
Luncheon raises $5,400
·
Professors show off high-flying aircraft
·
Fast Facts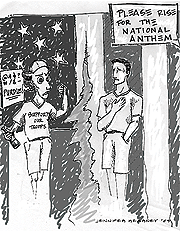 Far away in the country of Iraq thousands of American soldiers are fighting to protect our freedom.
They believe they are fighting the war on terror, fighting to stop the spread of terrorism and keeping Americans safe and free from fear.
Locally, at an Arizona Stadium crowded with thousands of people, the national anthem is drowned out by the cheers of obnoxious drunk college students shouting, "F!#@ Purdue" at the top of their lungs.
Is it just me, or does something not add up? [Read article]

·
Swimming in the desert
·
Mailbag
Latest Issue: September 22, 2005
Latest Issue: September 20, 2005
More than a pop culture phenomenon, yoga is growing as a route to spirituality
Spirituality has rapidly become one of the fads popularized by mainstream media and celebrities, whether it is Madonna plugging Kabbalah or Sting sculpting his body with yoga. But the practice of yoga has 5,000-year-old roots and is much more complex than its popular portrayal.
Yoga, in general, combines spiritual, physical and emotional practices to form a deeper connection with one's self and the outer world. However it is not limited to a singular definition and seems to take on a different meaning to everyone who practices. [Read article]

require('/home/webby/html/papers/98/polls/current.php')?>

showAds('bigbutton')?>






showAds('mediumbutton')?>


showAds('wildlinks')?>