Monday, September 26, 2005


Students hit by Rita's wrath
The hurricane that struck the Gulf Coast Saturday also impacted students at the UA, including the student body president who is gone this week after leaving to help his family in Texas.
Cade Bernsen, Associated Students of the University of Arizona president, left Friday evening for Beaumont, Texas, one of the cities hit hardest by Hurricane Rita, the second hurricane to pummel the Gulf Coast region in four weeks. [Read article]



Run 'N' Roll brings in $140K for disabilities
Race benefits 70 wheelchair athletes
Runners, walkers and individuals with disabilities alike rose with the sun and raced around the UA campus yesterday morning to collect money for the Disability Resource Center.
About 600 entrants participated in the 24th annual Jim Click Run 'N' Roll, which is the DRC's No. 1 moneymaker for their Adaptive Athletics Program, said Program Coordinator Janet Olson. [Read article]



Greeks get educated on sex assault prevention
Members of the greek community attended a required forum last night to learn about risks and prevention methods of violence and sexual assault, acts that have occurred at chapter houses in the past.
About 1,000 new members listened to speeches and watched presentations geared toward sexual assault and violence education, as well as being a role model to others on campus.
Tina Tarin, violence prevention specialist from the OASIS Program for Sexual Assault and Relationship [Read article]



Quick Hits
Students can get $200 refund for Tyndall permits
Parking and Transportation Services has oversold permits for the Tyndall Avenue Parking Garage and is asking students to exchange their permits for other incentives. One option would be to hand in the permit in exchange for a Zone 1 parking pass. The second option is to receive a Highland Avenue Parking Garage permit at the Zone 1 price, which means students can save $200 in the exchange. All processing fees will be waived. The one-time offer is an on first-come, first-served basis. Students can go to the PTS office at 1117 E. Sixth St. or call 626-7275 to exchange their permit or receive more information. [Read article]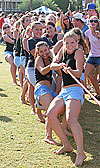 Winning war for philanthropy
In collaboration with campus sororities, Pi Kappa Phi raised more than $7,500 for their national philanthropy last week in their second annual War of the Roses competition.
Pi Kappa Phi has reached 75 percent of their semester's fundraising goal of $10,000 by hosting its War of the Roses tournament where sororities compete in various gladiator-style competitions throughout the week.
All proceeds will go to the organization People Understanding the Severely Disabled America, said fraternity President Jake Henderson. [Read article]



Luncheon raises $5,400
The Cats for Katrina relief luncheon held Thursday afternoon in the Student Union Memorial Center raised more than $5,000 to be donated to the Hurricane Katrina relief efforts, organizers said.
Three hundred luncheon tickets were sold at $10 apiece, exceeding previous expectations of selling at least 150 tickets, organizers said.
An additional 480 raffle tickets were also sold at $5 each, raising the total donation to $5,400, said Steve Adamczyk, a UA attorney and one of the organizers of the event. [Read article]




Professors show off high-flying aircraft
The UA Flying Club kicked off a new semester of flyovers, air shows and all things aviation with their annual hangar party at Ryan Airfield Saturday.
Ryan Airfield, located about 14 miles southwest of Tucson, caters to small private aircraft that fall under the classification of "general aviation."
The hangar party was a chance for existing club members to plan upcoming events as well as for prospective members to get a taste of what is to come in the semester. [Read article]




Fast Facts
Things you've always never wanted to know
By the age of 25, he was expelled from the army and disgraced, despondent, without funds, apparently without a future and suicidal. The man was Napoleon (1769-1821). One year later, he was the youngest general in the French army and began winning victories with ragged troops who were at the point of starvation.
The speed of rotation of the Earth's surface increases steadily from zero at the poles to a bit more than 1,000 miles per hour at the equator. [Read article]




showAds('bigbutton')?>






showAds('mediumbutton')?>

showAds('wildlinks')?>